Alev Kochoolu graduated from "D.A. Tsenov" Academy of Economics in town of Svishtov in 2013 with a Bachelor's degree in Economic and Financial Control. He also has a Master's degree in Business Informatics from the same university. Alev has worked in the State Fund Agriculture, in the field of automotive parts as a sales representative, and also as a consultant at a telecommunications company. Alev has been part of BGO Software for 7 months. His main responsibilities are related to office management. In addition to this, Alev works as a Junior SMO Specialist who maintains the social media channels of our hosting company – BGOcloud. He also optimizes the social networks of our website for daily automotive news and reviews – automobilesreview.com, which is part of BGOmedia. 
In his spare time, Alev likes being with his family. He also loves to travel around. One of his favorite activities is playing football, which is his hobby for many years. Alev shares that, if it wasn't for football, he wouldn't be the same disciplined and well-organized person.
How long have you been working for the company and how did everything start?
I have been working for the company for seven months now. Prior to my job application, I had read a lot of positive reviews about the company. So, when Nikolai Kalenski invited me for an interview, I jumped on this opportunity right away. When I got the job offer several days later, I didn't even think twice. Now I'm really thankful that Niki Kalenski appreciated my potential and put his trust in me. 🙂 
What are the biggest challenges in what you do?
The biggest challenge is to keep up with the daily changes in social networks.
What are the most fundamental skills you should have for your current position?
Creativity, logic, research skills ?
As a SMO specialist, tell us what it is like to be one.
This is a job that gives you everything. But it could be quite challenging at times because the social media landscape changes really fast. So, SMO specialists should act quickly and accordingly in order to achieve the best results.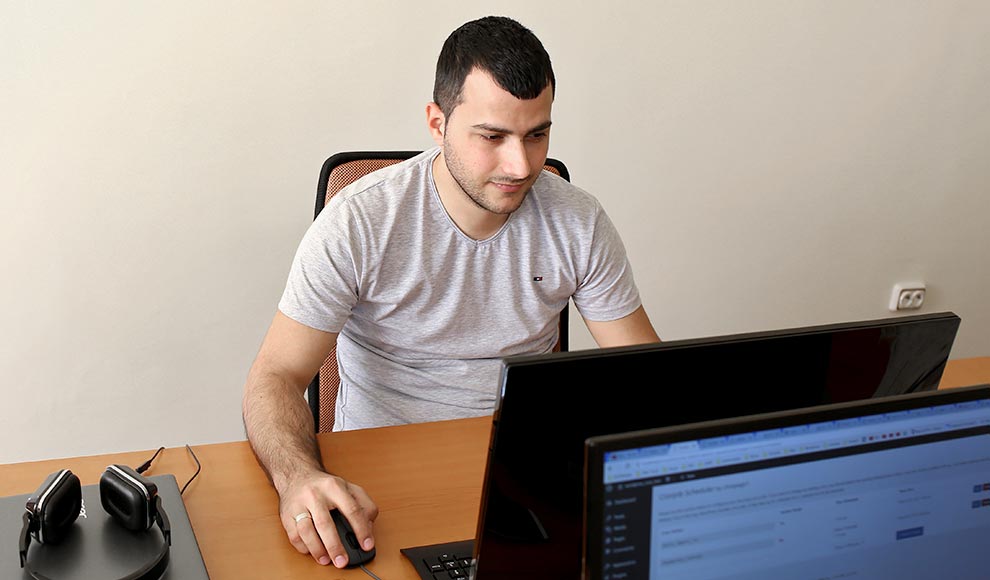 My favorite moment of the day is when I get home to my family
The first thing I notice about a person is their smile
The 3 things I cannot work without are mouse, keyboard and monitor
My 3 favorite online places are facebook, vbox7, youtube
When I am offline, I play football with friends or spend time with my family
I love my job because it makes me smile. I like working here and I like my colleagues because they are great. That's why I feel happy to be part of BGO's family ?
I get inspired by nature
If I had a superpower, I would do so happiness falls from the sky
On my nightstand you will find lottery tickets 😀
I come to work full of joy
I learn the most from my mistakes
If I had to describe myself in 3 words, they would be smiling, good and brave
The strangest thing I believed in as a child was that there was a lion in my bedroom
One person I consider a genius is Lionel Messi
My favorite quote is (no quotes by Paulo Coelho if possible) – "A single dream is more powerful than a thousand realities." by J.R.R. Tolkien
If I win from the lottery, I'll travel the world
If I have to describe to my grandparents what I do for a living, I will say that I'm working with computers
My philosophy in life is believe in yourself