Lidiya Todorova's life is not an ordinary one. She finds herself to be a traveler, adventurist, risk taker, and admirer of life in general. Lidiya is very organized, because the pace of her everyday life requires it: in other words, she has very busy schedule. Besides practicing her dream job as a marketing specialist and editor at BGO Software for exactly 5 years now, Lidiya has been studying Medicine simultaneously. She shares that sometimes it almost seems impossible but with the right kind of determination and time management (which is of crucial importance), any dream can easily come true.  
An interesting fact is that Lidiya has a Bachelor's degree in Philosophy and Master's in Psychic Health. To some extent, this explains Lidiya's attraction to arts and letters, as she has been previously mainly writing for one of BGO Media's websites – automobilesreview.com. Prior to her current job, however, she has been passionately working in the fields of fine arts and design, and has made multiple successful art exhibitions. Moreover, Lidiya has worked for various design and PR agencies as well. There were also times when she used to work as a teacher.
How long have you been working for the company and how did everything start?
I have been working for BGO Software for exactly five years. I met Ivailo Ivanov (CTO) in November 2011, after applying for a job at BGO Software that he offered. I think that working for the company is one of my best choices in life.
What are the biggest challenges in what you do?
Probably the biggest challenge that I have is to always do my best and constantly improve what I do. This means, learning and striving for the best results. All the time.
What are the most fundamental skills you should have for your current position?
To learn fast and a lot, to be very communicative, to do various types of task, to be very organized and to manage time efficiently.
As a Marketing Specialist, tell us what it is like to be one.
Currently, I'm working on Clinicubes CTMS. It is a project that I find one of the best opportunities that I've had so far. When I heard about it, I knew that it would be extremely challenging and difficult to start working on it. And it was, because I had to start from the very beginning. I had to learn everything about clinical trials management systems – from how they work, through who they benefit users, to how they can improve people's lives. And believe me, this includes all of us. Another benefit is that the project requires to multitask all the time and to do various types of activities: from the creation of the architecture of the web-site (which will be released very soon), to writing blog posts about clinical trial management systems, promotional mails, contacting potential clients and etc. The best part is that I constantly improve and learn a lot. With the knowledge that I gathered, I hope to help medical and pharmaceutical organizations alleviate people's suffering. Being in the medical field is extremely useful as I can easily implement my entire knowledge into my work.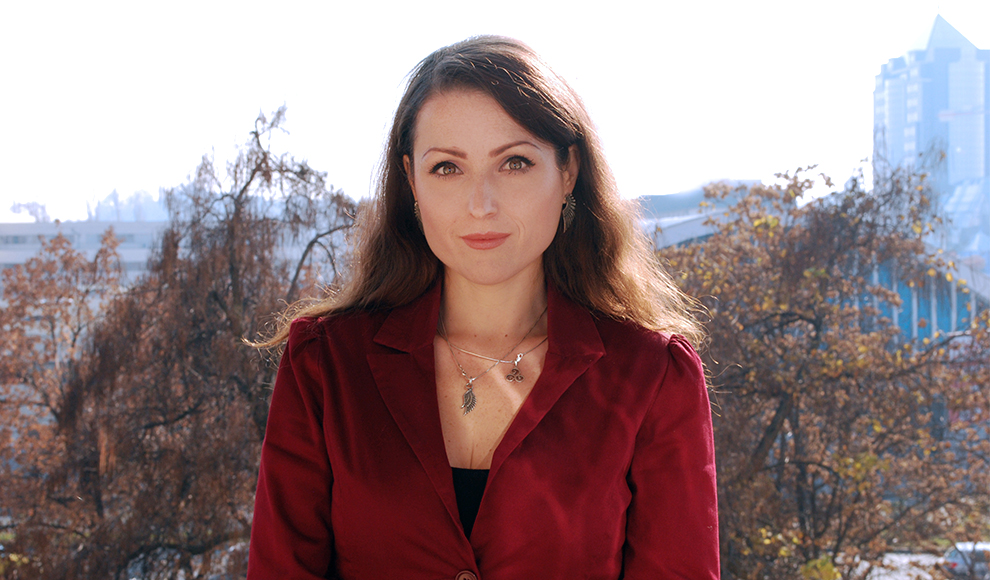 My favorite moment of the day is the time spent with family and friends. The time at the gym is not to underestimate either 🙂
The first thing I notice about a person is their behavior. Besides what I see (like general appearance), there is a lot hidden and unspoken. I seek that
The 3 things I cannot work without are motivation, concentration and of course my laptop (Internet included)
My 3 favorite online places are Automobilesreview, Behance & YouTube
When I am offline, you will find me travelling (and taking pictures) with family and friends or at the gym
I love my job because I do what I love, and I am surrounded by the best team of professionals at BGO Software
I get inspired by life and people I meet, or by different stories I read about people's lives. This gets me going even in the toughest moments in life 🙂
If I had a superpower, I would probably heal with "miraculous" energy
On my nightstand you will find lots and lots of books
I come to work with a lot of enthusiasm and positive energy
I learn the most from life in general. I believe that the best teacher is the person standing in front of you right now. And the best thing you can do for them is to give them your full attention. People are so abundantly different, that you can always learn something new and wonderful which will help you grow. The only requirement is to listen carefully 🙂
If I had to describe myself in 3 words, they would be achiever, determined and organized
The strangest thing I believed in as a child was that I had a guardian angel. But I still believe in the same thing 🙂
One person I consider a genius is Ivailo Ivanov (CTO) & Ivan Lekushev (CEO). Sorry, I can't divide them.
My favorite quote is (no quotes by Paulo Coelho if possible): "I am that, you are that, all this is that. That's all there is." Ancient Vedic saying
If I win from the lottery, I will travel the world, of course! Everything else I would like to keep in secrecy
If I have to describe to my grandparents what I do for a living I will simply tell them that I am working on a computer
My philosophy in life is a Buddhist one. But besides doing everything with a proper sense of detachment, I sometimes indulge in dreaming big, aiming high and always doing my best with a pinch of positive attitude and a little bit of love 🙂