Gergana Stoycheva has been interested in technologies and programming since high school so her career path seemed to be quite straightforward. She says she has never been on a crossroad in terms of weather to study programming or something else. Currently, Gery is working as a Front-End developer and her strengths are HTML, CSS, JavaScript and jQuery. She believes that BGO Software is the right place to develop these and many other skills.
In her spare time she tries to find the balance between her favorite activities. One of them are the workouts at the gym. Along with her traditional workout she does CrossFit and Kangoo Jumps. Fitness has been her lifestyle for 2 years now. Another thing that she likes is reading books with Stephen King being her most favorite author since her teenage years. Last but not least, Gergana loves being around people. Therefore, she tries to spend as much time as she can with her friends because these are the best and most precious moments in life for her.
How long have you been working for the company and how did everything start?
I've been working for the company for about 4 months. A friend of mine told me that the company is looking for devs and I was lucky enough to be scheduled an interview. I was very ill at that day and I thought that I didn't introduce myself as best as I could. Fortunately, Nikolay Stefanov liked me and here I am.
What are the biggest challenges in what you do?
One of the biggest challenges is keeping up with the latest trends and technologies. In our field, we have to improve ourselves all the time and learn new things.
What are the most fundamental skills you should have for your current position?
Having good communication skills and the ability to work in a team are important. You should learn fast and should have good logical thinking.
As a Junior Software Developer, tell us what it is like to be one.
I work on different projects with different people and it's really interesting. My job is challenging and provokes me every single day. That's why I like it. Sometimes it's really hard, especially when I have to find appropriate solution for a particular problem. But the satisfaction after that is priceless. I have to upgrade my skills constantly.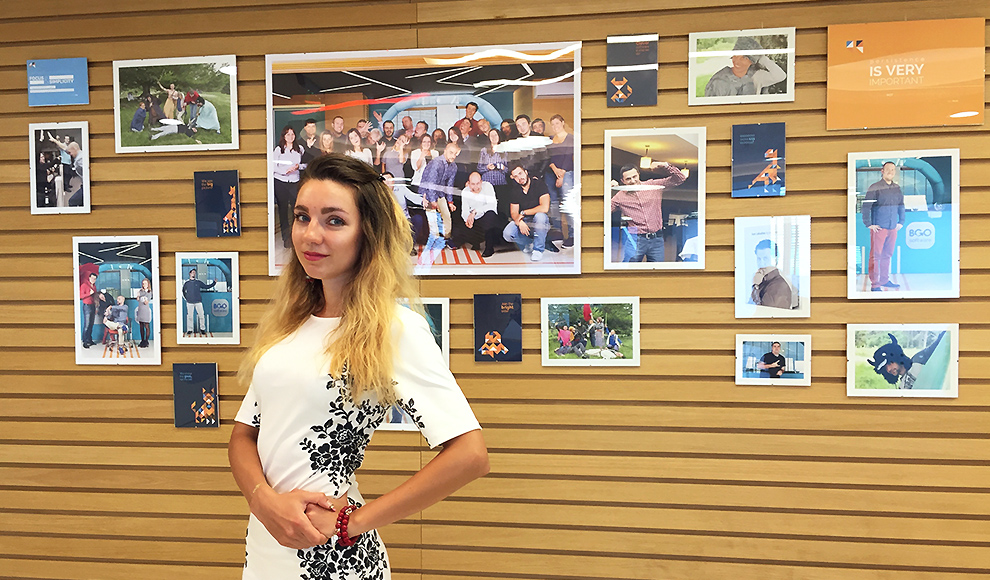 My favorite moment of the day is when I take off my high heels (women will understand me).
The first thing I notice about a person is his/her eyes. They are the key to his/her soul.
The 3 things I cannot work without are my laptop, internet and Nutella (Malvinka I hope you read this).
My 3 favorite online places are Facebook, YouTube and Stack Overflow.
When I am offline, you can find me in the gym (most of the time).
I love my job because we have awesome barbecue parties. I'm kidding. I love my job because, as I said, it is interesting, challenging, dynamic and I have great colleagues.
I get inspired by positive and ambitious people.
If I had a superpower, it would be time travelling.
On my nightstand you will find my phone and Stephen King's book (The book is called 11/22/63).
I come to work full of energy and glowing eyes (if I had a cup of coffee with baileys 😀 ).
I learn the most from my bad decisions.
If I had to describe myself in 3 words, they would be crazy, cheerful and stubborn.
The strangest thing I believed in as a child was that there was something alive under my bed (I still believe in this 😀 ).
One person I consider a genius is Steve Jobs.
My favorite quote is (no quotes by Paulo Coelho if possible) "If you can dream it, you can do it!" Walt Disney
If I win from the lottery, I will travel around the world.
If I have to describe to my grandparents what I do for a living – mission impossible.
My philosophy in life is very simple: ENJOY LIFE 🙂