Mihail Duchev graduated from Technical University-Varna with a Bachelor's Degree in Computing and Master's Degree in Computer Technologies in Business. He began his journey in the software industry while he was still undergoing his second year at university. Back then, Mihail Duchev started working for a software company in Varna, where he laid the groundwork for his future career growth.
Now Mihail works as a Senior Software Developer on one of the biggest projects of our company – IMS (Incident Management System) and he's currently responsible for the development of the mobile application of the system.
In his free time, Mihail Duchev likes to work on side projects, hangs out with friends and organizes different tech conferences. So far, he has organized three TEDx conferences in Bulgaria, many Startup Weekends and several others. Mihail Duchev also likes learning new technologies or improving his stack of such via video tutorials and books.
How long have you been working for the company and how did everything start?
I have been working in BGO Software for almost half a year now. Everything started on LinkedIn – a recruiter was "stalking" me for the past 3 years, but I still hadn't graduated from university (in Varna) and therefore was not available for the IT job offers in Sofia. When she contacted me for the third or fourth time, I had already moved to Sofia, so I decided to view her job offer, because she was excited about it. She convinced me that I would be satisfied with the company, the conditions there and the projects and technologies that they use. Fortunately, it all turned out to be true.
What are the biggest challenges in what you do?
The biggest challenge for me is to try to show my colleagues the best practices when writing code and to try to establish a code standard. Sometimes it may be a bit challenging and maybe that is because they think that what I am saying is not so important. However, I know that in the long term this will benefit us all. So I keep trying.
What are the most fundamental skills you should have for your current position?
Having a strong knowledge of the technologies that we are using and having the will to apply the best programming practices.
As a Senior Software Developer, tell us what it is like to be one.
Developers have to understand that in order for one to be a good developer, the learning should never stop. We should not be constrained by the '9 to 6 working timeframe'. People that are leaving the office at six sharp, or that never try to improve their knowledge, will always stay on the same level or at least one level below where they want to be.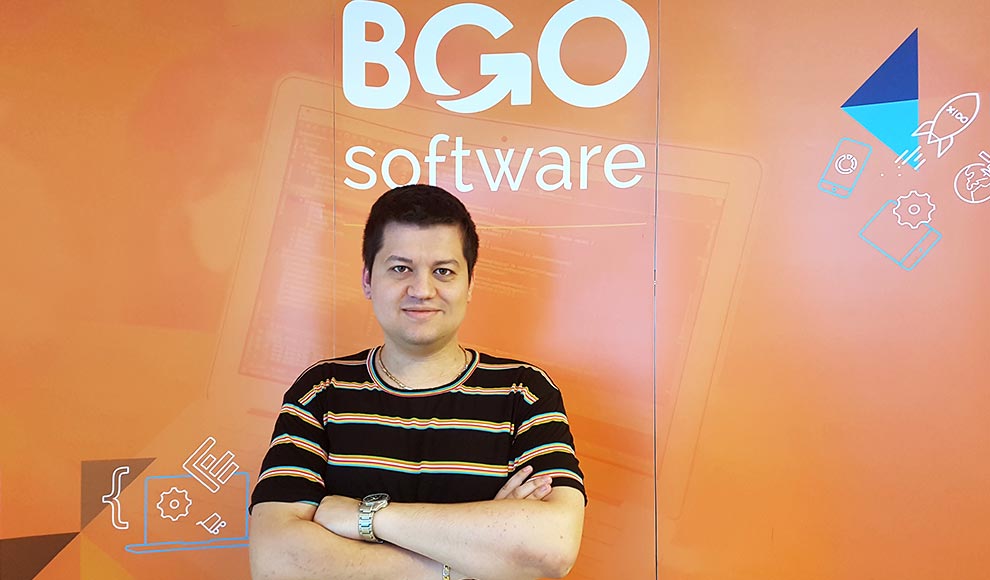 My favorite moment of the day is when I have completed a huge or very complicated task (being that at the office or outside office hours)
The first thing I notice about a person is the smile
The 3 things I cannot work without are computer, smartphone, motivation
My 3 favorite online places are YouTube, News Republic, Udemy
When I am offline, I try to read a book or go out with friends
I love my job because every day is like a new adventure that comes packed with new challenges
I get inspired by my colleagues
If I had a superpower, I would make all of the people literate ?
On my nightstand you will find a glass of water and a book
I come to work via public transport
I learn the most from my mistakes
If I had to describe myself in 3 words, they would be curious, good friend, righteous
The strangest thing I believed in as a child was that my mother would give me a kangaroo that I will go to school with (I would be in its pouch)
One person I consider a genius is Albert Einstein
My favorite quote is (no quotes by Paulo Coelho if possible) "Only two things are infinite, the universe and human stupidity, and I'm not sure about the former." Albert Einstein
If I win from the lottery, I will give some of the money to my family and I will invest in my own business with the rest
If I have to describe to my grandparents what I do for a living, I will only say 'computers'
My philosophy in life is to be the change one wants to see in the world