Snezhina Marburg describes herself as a sea soul coming from a small, beautiful ancient sea cost town – Sozopol. She tested the Mediterranean life, while studying in Greece. Snezhina got a Master's Degree in Management Psychology, she speaks 5 languages and has always been looking for a multinational and diverse environment to develop her skills and professionalism. Snezhina has been working in the HR field since 2008 in different business areas, fulfilling her wide range of experience – BPO, Logistics, FMCG, Insurance and, currently, IT.
In her spare time, she loves spending time with her kids. Snezhina also enjoys riding a bicycle and likes to swim during the summer. Lastly, she is really passionate about traditional Bulgarian folk dances.
How long have you been working for the company and how did everything start?
I'm proud to say that I've been working for BGO Software for 6 months now. In the beginning… it was the light! It was a happy coincidence 🙂
What are the biggest challenges in what you do?
My job is to be here supporting my colleagues and making them happy. At the same time, I have to keep balance between the business needs and legal perspectives of the company.  🙂
What are the most fundamental skills you should have for your current position?
My positive attitude and the ability to listen have proved that people trust me. I'm an open-minded and emotional intelligent personality, willing to understand each and every point of view. Accuracy and sequence are fundamental for the administrative part of HR. Another important ability is to analyze all the details, without missing the big picture.
As an HR Manager, tell us what it is like to be one.
Do you remember BGO Software's First Annual Conference this year and the short video clip of the Pengiuins of Madagascar presented by the Admin team? Well, it actually aimed to depict the role of an HR which is always dynamic, rapidly changing, enriching and full of responsibilities. I'm in the jazz with all of my colleagues every day!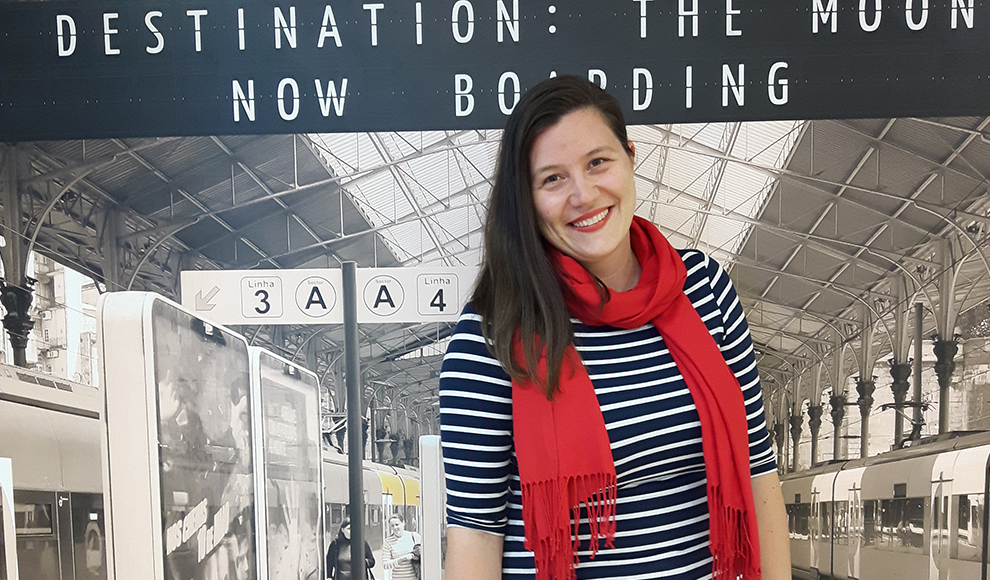 My favorite moment of the day is when I'm with my family and my lovely daughters. Home sweet home 🙂
The first thing I notice about a person is his/her entirety. If anything – it's the smile.
The 3 things I cannot work without are a bottle of water, my glasses and good music
My 3 favorite online places are different news channels, YouTube and LinkedIn
When I am offline, I spend time in nature with family and friends
I love my job because challenging and fast changing environments only drive me to dare and become even better professional in my area. I love communicating with diverse personalities, getting in touch with different experiences and getting into the shoes of others. That is how I personally transferred my academic dreams of being psychologist into the real world of analyzing, mapping and supporting colleagues and business in their needs 🙂
I get inspired by new ideas, different point of view, constructive feedback and by a phrases or drawn pictures of my daughters
If I had a superpower, I would do anything to save all children on this planet
On my nightstand, you will find my glasses and my phone
I come to work with a smile
I learn the most from the amount of information that comes from the internet. But I also learn from books, other persons who I admire and from mistakes (not only mine)
If I had to describe myself in 3 words, they would be tenacious, balanced, different
The strangest thing I believed in as a child was that I'm writing letters while I was just scratching
One person I consider a genius is – I cannot limit it to only one person. There are so many genius artists, authors and just humans out there 🙂
My favorite quote is (no quotes by Paulo Coelho if possible) "No matter what people tell you, words and ideas can change the world" Dead Poets Society
If I win from the lottery, I would donate, would invest in the education of my children and will make a world trip
If I have to describe to my grandparents what I do for a living, I will tell them I maintain employees' happiness and satisfaction, keep their smile on and prepare their salaries, of course
My philosophy in life is live it in a positive mood and treat others in a way you would like to be treated in return