Svetlin Konakchiev has a degree in Telecommunication Engineering. He inherited his passion for technologies from his father and brother who are also technology specialists. Ever since 1st grade, Svetlin has been learning about computing and has been working with computers. Over time, he became even more interested in technologies, especially after watching his brother exchange files with people on the other side of the world via Dial-Up modem and BBS system (the predecessor of today's Torrent). Playing Doom II in multiplayer via direct computer-to-computer connection on the "powerful" 486 based PC influenced him as well.
Over the years, Svetlin Konakchiev worked on various technology-oriented developments, from HiFi, through Security and safety systems, to High grade and high secure military data-centers. Currently, he is a System Administrator at BGO Software. He is mainly responsible for the maintenance of the physical and software infrastructure, including computers network supply, computers and network security, providing and managing new equipment and sustaining old technologies. In addition to this, Svetlin offers support and manages clients who use BGOcloud. Along with Ivan Angov, Svetlin monitors and manages part of BGO Software's VoIP telephony. Finally, he writes technical articles in BGOcloud knowledge base. And as he jokes, if there's a glitch in the universe, well then, it's the SysAdmin's fault! 🙂
In his non-computer life, Svetlin loves spending time with his family and friends. He likes biking, hiking or just walking in the nature (the wilder, the better). 🙂
How long have you been working for the company and how did everything start?
I've been working at BGO Software for 6 months now. The story began a year ago when I had the chance to work on some infrastructure projects for the company in collaboration with some of my present colleagues. Later on, I officially stepped in and got a permanent position.
What are the biggest challenges in what you do?
The biggest challenge is to keep up with all systems that we are currently using.
What are the most fundamental skills you should have for your current position?
Analytical thinking and fast troubleshooting are the most fundamental skills. Without them, you simply cannot succeed.
As a System Administrator, tell us what it is like to be one.
It is an everyday challenge, especially if I want to be good at what I do. There is no possible way to learn and understand everything in-depth, unless I learn and try new things and techniques every day. After all, it is great to be SysAdmin and win small battles in day-to-day tasks. The feeling of achieving constant progress keeps me really motivated.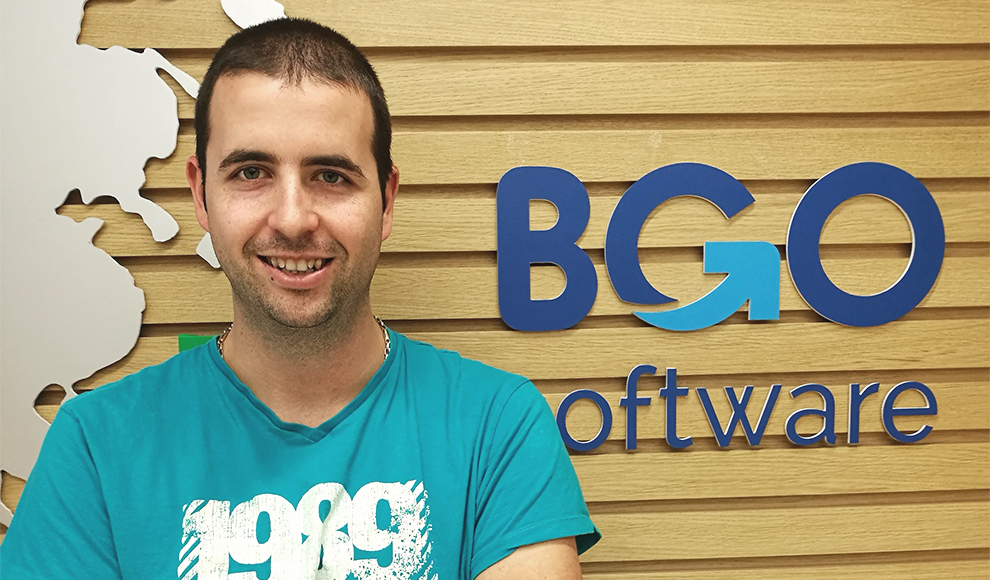 My favorite moment of the day is after lunch and coffee time
The first thing I notice about a person is the way he talks to others
The 3 things I cannot work without are computer, internet and electricity
My 3 favorite online places are Facebook, Skyscraper City, nixanbal
When I am offline… I am never offline, but in my free time, I'm with my kids and wife at home, in the park or in the mountain
I love my job because I learn something new every day
I get inspired by people that don't give up
If I had a superpower, I would cure all death diseases among children
On my nightstand you will find my phone and my watch
I come to work with the metal horse (i.e. metro or tram) 🙂
I learn the most from google search
If I had to describe myself in 3 words, they would be patient, balanced, emotional
The strangest thing I believed in as a child was that everybody was some sort of an animal in their previous lives
One person I consider a genius is Stephen Hawking
My favorite quote is (no quotes by Paulo Coelho if possible) "Sometimes you win, sometimes you learn. Life's greatest lessons are gained from our losses." John Maxwell
If I win from the lottery, I will travel the whole world and start a small business
If I have to describe to my grandparents what I do for a living, I'll tell them I fix computers and cables
My philosophy in life is the laws of Mother Nature matter the most in this world, so don't mess with Mother Nature 🙂