Ivelin Gushkov graduated from University of Plovdiv "Paisii Hilendarski" with a Bachelor's Degree in Applied Mathematics. He has worked as a retailer and wholesaler in various trade merchants. At one point, Ivelin started his own business in the auto mechanic industry. Currently he is working as Junior Open-Source Software Developer at BGO Software. Ivelin is also part of our data extraction team.
In his free time, he loves to engage in outdoor activities like diving, hiking, climbing, fishing and others. For the past 8 years, Ivelin has been an active participant in the Bulgarian Carp Fishing Championship. 🙂
How long have you been working for the company and how did everything start?
It's been a year since I joined the company. After a few discussions with a close friend of mine, who has been working in the IT industry for a few years, I decided to try working in this field myself. His recommendation of Web Academy put me on the path to success and after a year of hard work, I graduated three of the programming courses with certificates in Front–End Level 1, Front-End Level 2 and PHP 1. My efforts paid off and thanks to the newly acquired skills and know-how, I got an opportunity to gain a real-life experience in the IT world. So, while I was waiting for the fourth course to start, I got a chance to join BGO Software and work for the company.
What are the biggest challenges in what you do?
My constant desire to "level up".
What are the most fundamental skills you should have for your current position?
In my opinion, technical skills make you a developer but thinking out of the box is what makes you a great developer.
As a junior software developer tell us what it is like to be one.
It is a real pleasure, because every task is a new challenge.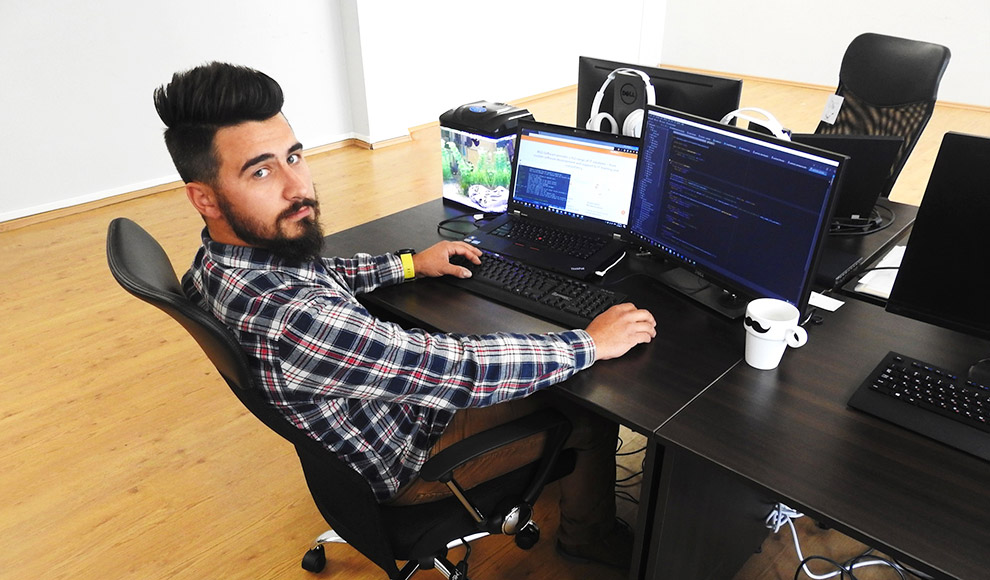 My favorite moment of the day is every single day at the office, because we are one big family and I learn new stuff on daily basis. "I'm lovin' it!" 🙂
The first thing I notice about a person is his/her attitude
The 3 things I cannot work without are my laptop, internet and positivity
My 3 favorite online places are Google, Pinterest and YouTube
When I am offline, I fish, hike, dive around, climb or do some other crazy stuff
I love my job because I can easily cope with the challenges as I am surrounded by friendly people (my colleagues <3)
I get inspired by many things. It depends on the situation. Mainly by Paulo Coelho… Just kidding. My inspiration comes from nature (save the bees!!!), open-minded people and my girlfriend ?
If I had a superpower, I would stop the global pollution
On my nightstand you will find my phone, my tablet and sleeping pills
I come to work with loud music playing in my car
I learn the most from Yordan Enev (Manager at Web Academy), Nikolay Stefanov (R&D Manager), my colleagues and Google.
If I had to describe myself in 3 words, they would be… I can't really describe myself. I'll leave that to you ?
The strangest thing I believed in as a child was that I would have an alien as a pet
One person I consider a genius is Lachezar Gorchev, Richard Stallman, Linus Trovalds … Oops, that's more than one ?
My favorite quote is (no quotes by Paulo Coelho if possible) – "Where there's a will, there's a way." Hristo Prodanov
If I win from the lottery, I will visit the wildest places in the world and indulge in my hobbies
If I have to describe to my grandparents what I do for a living, I'll tell them that I read and write incomprehensible to them things all day long
My philosophy in life is if a person is capable of doing something, then I am capable too