Simeon Borisov has been interested in the field of Information Technologies and computers since 1998. However, his knowledge and expertise deepened and enriched significantly after joining BGO Software. In the beginning, Simeon managed the content of various company websites such as bmwhotnews, italiansupercars, autoreader, musclevehicles, carsinvasion. 
Having just a very vague idea about how things happen "behind the browser", Simeon decided to demystify this subject matter and by the end of the year 2014, he bought his first books on web programming – "PHP & MySQL Practical Programming" and "HTML & CSS3 Practical Programming for beginners" both written by Denis Kolisnichenko. Interestingly enough, he considers Nikolai Kalenski (Senior Software Developer at BGO Software) as the person, colleague and friend who helped him the most in the process of learning. Today, Simeon Borisov works with PHP, MySQL, JavaScript, jQuery, HTML and CSS.
During his free time, Simeon likes to read books or watches popular science films about astronomy. He loves fishing with friends and taking long walks in the nature with his girlfriend. He is also very good at cooking, especially when preparing phyllo dough recipes and pizzas. He had watched hundreds of videos until he learned the intricacies of preparing the dough 🙂 Of all the pizzas in the world, his most favorite one is margarita. Classic, isn't it?
How long have you been working for the company and how did everything start?
Back in August 2013 my friend Nikolai Kalenski told me that the company was looking for someone to manage the publishing of automotive news on their blog. He asked me if I would be willing to try it, and here I am 3 years later.
What are the biggest challenges in what you do?
Constantly improving your technique in accordance with breakthrough technologies.
What are the most fundamental skills you should have for your current position?
Being determined and, above all, enjoying what you do.
As a Junior Front-End Developer, tell us what it is like to be one.
It is interesting and challenging. There are plenty of difficulties, that's for sure, but being able to overcome them makes you feel great and even more motivated to keep on going.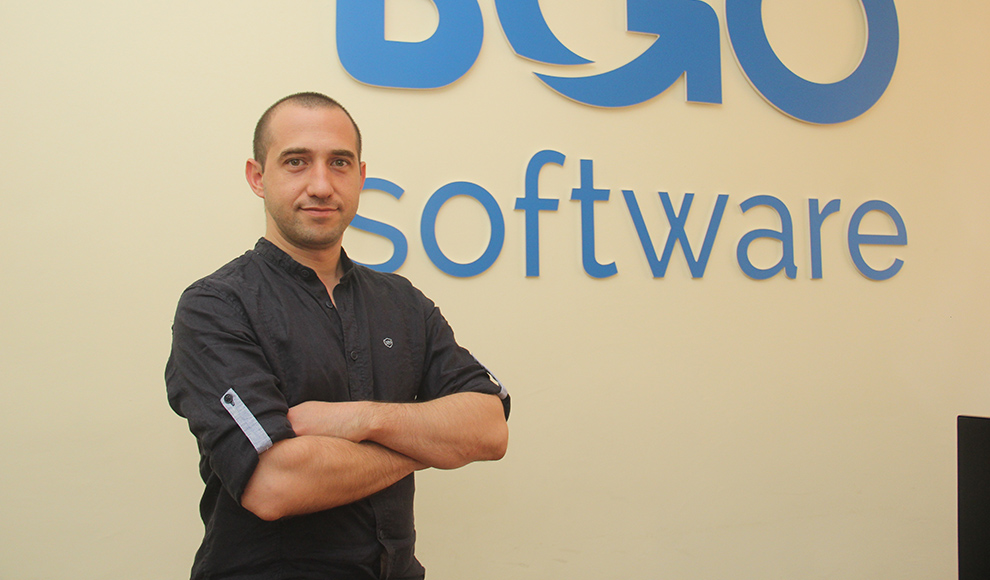 My favorite moment of the day is when I have my morning coffee
The first thing I notice about a person is their hairstyle and clothing
The 3 things I cannot work without are my computer, the Internet and coffee
My 3 favorite online places are YouTube, SoundCloud, Google
When I am offline, I take a rest, read a book or watch video tutorials related to my job
I love my job because it is full of challenges and things to learn each day
I get inspired by people who are not afraid to take risks and believe there are no impossible things
If I had a superpower, it would be having time for space traveling
On my nightstand you will find my kindle
I come to work ready for new challenges
I learn the most from my mistakes
If I had to describe myself in 3 words, they would be good, positive and responsible
The strangest thing I believed in as a child was that wigs are made of maize silks
One person I consider a genius is Albert Einstein
My favorite quote is (no quotes by Paulo Coelho if possible) "The greatest enemy of knowledge is not ignorance, it is the illusion of knowledge." Stephen Hawking
If I win from the lottery, I will invest in shares of various IT companies and will go on a trip with my girlfriend
If I have to describe to my grandparents what I do for a living I will explain that I help other people solve problems related to their computers and the world wide web as well
My philosophy in life is keep on going and never give up