Plamen has a Bachelor's Degree in Automation. After graduating from Technical University of Sofia, he starts working as a design engineer at a company that manufactures innovative products and offers solutions for the metalworking industry. While working for the company, Plamen also participates in designing constructions for buildings for clients situated in Abu Dhabi, London, and Vienna. Yet, because he likes challenges, he decides to try something different instead and signs up for a Front-End online course at Telerik Academy in the summer of 2012.
Despite the fact that everything starts as a joke, his curiosity in programming quickly turns into a genuine interest. Which makes him sign up for another one-year program for software engineers at the same academy. Plamen's favorite technologies are ASP.NET MVC 5 and above, ASP.NET WebAPI 2, Entity Framework and Angular 2.
During his free time, he meets up with friends for a drink or spends time in the mountains. Depending on the season, Plamen is either skiing or hiking. He also enjoys watching video tutorials on software engineering, good programming practices and architecture and design.
How long have you been working for the company and how did everything start?
I've been working for the company for almost six months now. It's a long story but, in brief, it happened so that I connected to Ivan Markov in LinkedIn by accident and he told me that they were looking for .NET developers at BGO Software. I decided to apply for the job and sent my CV. The rest is history 🙂
What are the biggest challenges in what you do?
The biggest challenges I have faced so far include getting used to logging my work hours in Jira; getting to grips with Kendo UI in a very short period of time; accepting that third parties have designed tables in a relational database without any foreign key between the tables which are 200 and above. Thinking of this makes me shed a tear, really 😀
What are the most fundamental skills you should have for your current position?
Having excellent understanding of ASP.NET MVC, SQL and Stored Procedures, Kendo UI, being patient and demonstrating strong teamwork skills.
As a Software Developer, tell us what it is like to be one.
I think that the most important thing to realize is that it's not about coming to work at 9 o'clock in the morning and leaving 8 hours later. There's so much more to it. Every software developer should always stay up-to-date with the latest technologies. Otherwise, sooner or later he will become 'outdated' himself. And lastly, working as a software developer means that I should always stay curious, stubborn and consistent.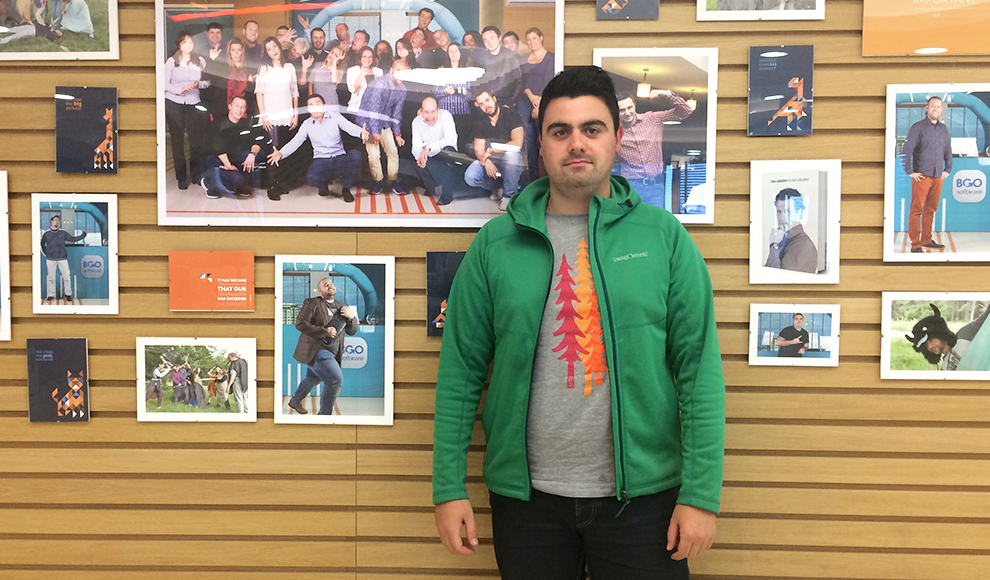 My favorite moment of the day is every time I successfully complete a complex task
The first thing I notice about a person is his attitude
The 3 things I cannot work without are keyboard, monitor and computer 🙂
My 3 favorite online places are pluralsight, SalomonFreeskiTV YouTube channel and ASP.NET
When I am offline, I am somewhere in the mountains
I love my job because it's challenging
I get inspired by people with strong will
If I had a superpower… If is a bad word 🙂
On my nightstand you will find a glass of water and kindle with empty battery
I come to work by car
I learn the most from my mistakes, pluralsight, telerik academy and, of course, from solving problems
If I had to describe myself in 3 words, they would be responsible, good friend (for people who deserve it) and fair
The strangest thing I believed in as a child was… I don't remember
One person I consider a genius is Nikola Tesla
My favorite quote is (no quotes by Paulo Coelho if possible) "I have no idols. I admire work, dedication and competence." Ayrton Senna
If I win from the lottery, I will try to invest half of the money in something meaningful
If I have to describe to my grandparents what I do for a living… haha, this will be funny, I guess
My philosophy in life is what goes around, comes around