From a graduated third-degree computer technician, to aspiring political scientist, Tonislav Ivanov was born in a small town called Vratsa, located in Bulgaria. Tonislav has spent his last few years of high school as an activist, while studying what he loves the most – computers.
After Tonislav graduated, he moved to Sofia. He began studying Political Science, while simultaneously working at our company as a helpdesk consultant. In general, he is responsible for helping researchers and other experts in the medical field, while experiencing technical challenges, using HARP – one of our most advanced projects used for ethical reviews of clinical trials.
Tonislav likes to spend his free time going hiking, playing video games or reading up on interesting sci-fi/fiction books.
How long have you been working for the company and how did everything start?
I've been working here for the past 4 months. I was desperately searching for a job in the IT sector, constantly on the move for more interviews and false promises made by a few companies, until Mario Kostadinov (who is a close friend of mine), called me with an offer for an interview for a helpdesk consultant vacancy. The interview went well and I was given the amazing opportunity to work with some of the best and brightest in the IT sector.
What are the biggest challenges in what you do?
I would say learning the ins and outs of two of our biggest projects the IRAS and HARP systems. While there are some basic concepts that are quite easy to learn, the systems themselves are quite extensive and required constant learning for the first two to three months. While I can safely say I can work almost independently on the IRAS web system, I still have a lot to learn about HARP. Luckily, I've got the best colleagues backing me up and helping me improve. They have been incredibly patient, helpful and easy going!
What are the most fundamental skills you should have for your current position?
Well, other than being patient with the clients you need to be cool-headed at all times. It is also important to pay attention to what people who call are saying so that there is zero miscommunication.
As a Helpdesk Consultant, tell us what it is like to be one.
Working as a Helpdesk consultant is not physically tiresome work, but you need to be constantly focused in order to be ready to assist customers to the best of my ability. And secondly, I must keep track of the system updates and changes in order to know how to advise the users. I find it quite useful for myself, as I'm constantly speaking in a foreign language, honing my speaking skills, while working. So, it's a win-win.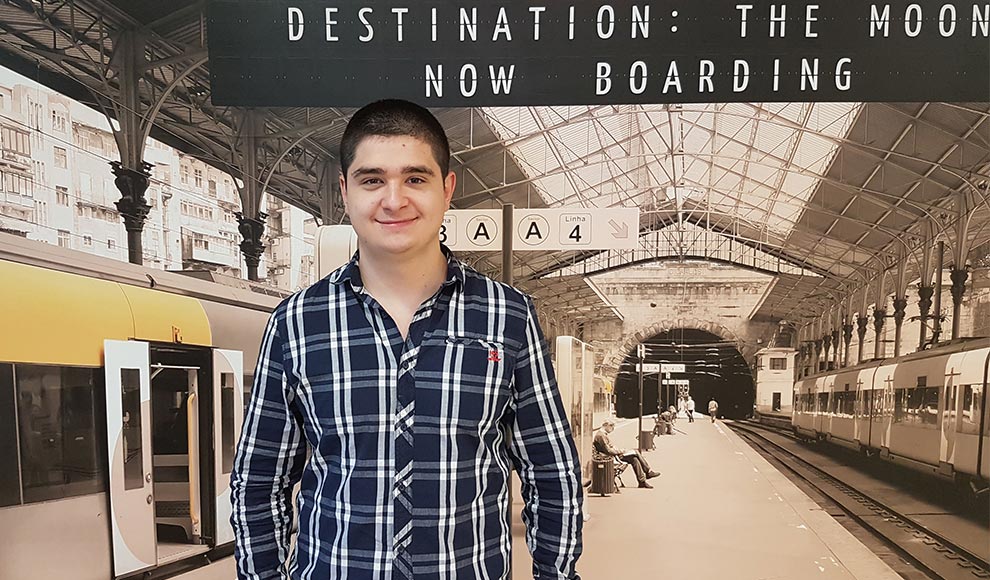 My favorite moment of the day is the lunch break
The first thing I notice about a person is their attitude and personality
The 3 things I cannot work without are food, water and internet (obviously)
My 3 favorite online places are Netflix, YouTube & 9gag
When I am offline, I prefer reading or organizing road trips and hiking
I love my job because it's fun, educational and not tiresome compared to other jobs
I get inspired by the experience and perspective I get from my colleagues, some of which I already consider as friends. Their stories and perspectives on all kinds of issues give me a certain way of looking at things. Something that would have taken me a long time to figure out on my own through trial and error. ?
If I had a superpower, I would like to be able to read minds
On my nightstand you will find a bunch of books, chargers and a prom picture of me and my friends
I come to work expecting another interesting day
If I had to describe myself in 3 words, they would be adaptable, easygoing & lazy (just occasionally ? )
The strangest thing I believed in as a child, as my sister reminded me, was that the cheapest ice cream was the best (she, usually took the allowance money and bought herself an expensive ice cream, while I was eating the cheapest possible).
One person I consider a genius is my best friend
My favorite quote is (no quotes by Paulo Coelho if possible) "Stand amongst the ashes of a million dead souls, and ask the ghosts if honor matters. The silence is your answer." Javik
If I win from the lottery, I'd hire some financial advisors and invest my money in a smart way. I may also invest in apartments and mortgages in general and eventually I would like to invest some money in my home town in order to make it a comfortable living place and hopefully pump some life back into that region of Bulgaria. ?
If I have to describe to my grandparents what I do for a living, I will tell them I help doctors and universities with their research and studies in the medical field
My philosophy in life is that you should learn from your mistakes, soak in as much experience as you can from every failure and try over and over until you feel like you've succeeded. Look ahead and stay positive for what is yet to come. ?