Nikolai Kalenski's interest in programming has existed for more than a decade. His desire to work in the sector was firstly born ever since the foundation of BGO Software, as Nikolai was one of the very first persons who started the mission. But more about this story can be read bellow. Hasn't he turned out to be a great front-end developer, with deep knowledge in PHP, SQL, HTML, CSS and JavaScript, he could have become the master of subtle humor.
So Nikolai Kalenski is a person with a dry sense of humor. He often says funny things with a super calm expression. Just to play with people's understanding of the joke and make them wonder whether he is being serious or not. He is also the guy with the quirky sense of humor who tells strange and sometimes unpredictable jokes. Warped sense of humor is his thing too. Nikolai can laugh at things that many people are afraid of or offended by 🙂 On the whole, he is the person that can definitely cheer you up, and then, he can continue to do his magic as a developer as if nothing really happened.
How long have you been working for the company and how did everything start?
It's safe to say that everything started more than 12 years ago. I remember it was one year after I completed my military service along with Ivailo Ivanov (CTO at BGO Software). He called me and invited me to meet up. It was then when he offered me to work on a project, involving the development of a website for industrial machinery ads (machinesbox.com). Ivailo had started it and I had to help him finish it, since he didn't have the time to do it on his own.
I got familiar with PHP, learned web programming very quickly, and became the second person (Ivailo being the first one) who contributed to the establishment of this company.  Later on we started to outsource to a company based in the US and asked Zachary Mladenov (Creative Designer at BGO Software) to join us. Gradually, the number of people who became part of the team increased. We built an automotive blog network and focused on software development. So here I am, years after this occasion.
What are the biggest challenges in what you do?
I think that the biggest challenge is to always try to be up to date with the newest industry-related trends and technologies.
What are the most fundamental skills you should have for your current position?
Collegiality, consistency and a good sense of humor.
As a developer, tell us what it is like to be one.
It is definitely great fun.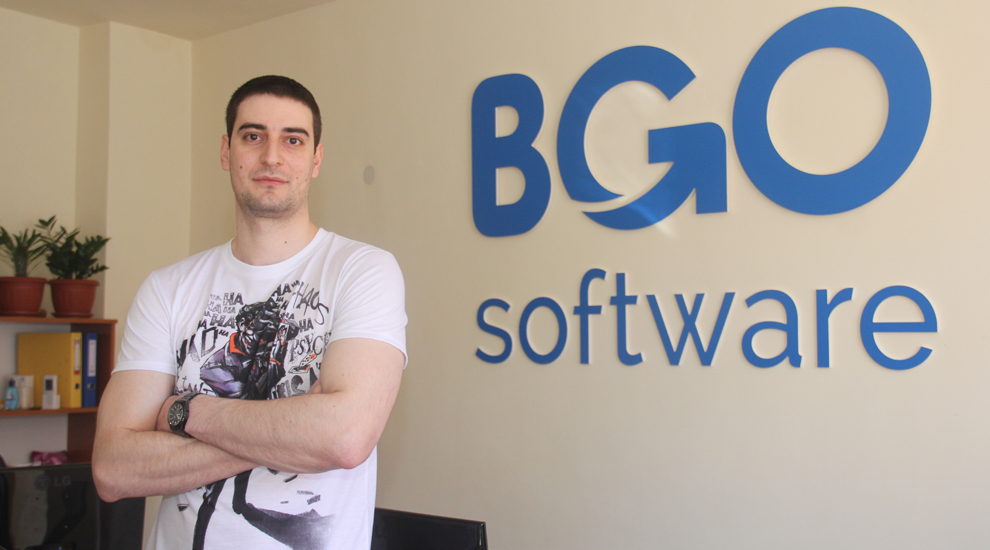 My favorite moment of the day is when the work day is over 🙂
The first thing I notice about a person is their sense of humor
The 3 things I cannot work without are computer, Internet and coffee
My 3 favorite online places are YouTube.com, Wikipedia.com, automobilesreview.com
When I am offline I just rest
I love my job because I work at BGO Software. It's impossible not to love it
I get inspired by people who create
If I had a superpower, it would be super dumb, most probably (I never get the cool stuff)
On my nightstand you will find million remote controls  
I come to work… Who goes to work, dude. D-r Radeva has explicitley forbidden me
I learn the most from my mistakes
If I had to describe myself in 3 words, they would be honest, funny and very stubborn
The strangest thing I believed in as a child was that I will win the lottery
One person I consider a genius is John Atanasoff
My favorite quote is (no quotes by Paulo Coelho if possible) –  "Once something is a passion, the motivation is there." Michael Schumacher
If I win from the lottery… Yeah, right
If I have to describe to my grandparents what I do for a living I will tell them I do what I want
My philosophy in life is Do good things and good things will happen to you