The medical industry has always been prone to big change. As the world's mass market continues to integrate technology more and more into itself, healthcare marches on with it.
New technology pops up every day and one of the biggest fields in which it gets used is medicine. Most machines and applications that all healthcare providers have are controlled by some kind of software.
There is no escape from the need to use software solutions to properly manage a business. Especially a healthcare practice. The trends perfectly demonstrate this need. In the span of six years alone, the global healthcare market is projected to experience a 30% growth from $21 billion in 2018 to $32 billion by 2024.
With this extreme use, comes the question of what type of software is best for any given business. There are two types - custom software and an off-the-shelf solution. We are going to take a better look at the two in this article and go through the disadvantages of bespoke software, but also the huge advantages it has compared to the ready-made one.
What is healthcare software?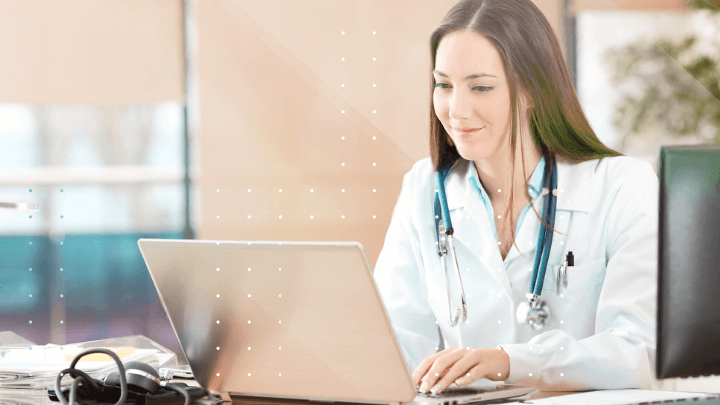 Computer applications and programs can be used almost anywhere in the healthcare industry. Medicine as a field in today's world revolves around a lot of different technologies. And that is why it has progressed so much over the years.
Because it has had a wide variety of functions to grow into. Starting from huge procedural machines like MRIs, CT scans, and X-rays which sometimes require an in-house technician to just maintain them. There are also wearable devices that monitor patient vitals which during the pandemic turned to remote devices.
One thing not to forget as well is the multitude of applications and system software solutions that are needed to manage everything and make sure all the information is being stored. As with every business, a healthcare one has its administrative side and its functional side. It is important to note how healthcare software is applied in both.
Administrative healthcare software
Medical staff are burdened with many responsibilities on a day-to-day basis. And a lot of these responsibilities aren't something they are trained for. They are trained to deal with patients and practice medicine.
Providing patient care, however, comes with many different aspects because before anything else patients are people. People have personal information and lives that sometimes require to be more scheduled than usual.
Having to deal with the bureaucratic side of the profession can take up a big chunk of the work process, especially for practitioners whose main focus has to remain the patients. There is no world where having stressed and overworked medical staff is a good thing.
That is why, in order to save time and improve work efficiency, we have administrative software that is specific to the healthcare industry.
One of the biggest ways this is accomplished is by integrating EHR (electronic health records) into the entire system. Patient medical information is securely kept in digitized formats that can be easily accessed by authorized personnel. Such records store previous medication, treatment plans, hospital visits, operations, and lab results.
The intended function of these records is to streamline the workflow process of managing the sensitive data of patients not just between different practitioners, but between different departments and practices.
Another extremely valuable way administrative software optimizes existing processes is through practice management applications. Two of the biggest time-consumers in medical practices are managing billing and dealing with appointment scheduling. Bespoke software solutions can offer easier ways for a specific business to deal with these tasks.
For example, instead of having to phone or email your healthcare provider to make an appointment, you can easily use an already set-up web portal where a doctor's availability is easy to see and match with your own.
Functional healthcare software
With this type of function, a software solution provider would offer tools that can assist medical practitioners with the clinical part of their work. This side of the patient care process includes diagnosis, treatment, and patient monitoring.
There are, of course, a variety of applications a software development company can offer to a healthcare facility:
Clinical decision support systems, also known as CDSSs, can offer doctors and nurses detailed clinical knowledge and patient-based information. This can help in the process of coming to a diagnosis, creating a treatment plan, and in general, allow care providers to make more informed medical decisions.
Virtual nurse applications are also one of the many ways healthcare software can make the profession easier. Instead of having to communicate with doctors and nurses constantly and having to waste time visiting the hospital for minor questions and issues, a patient can remotely consult a digital health assistant with any kind of questions they might have.
Remote monitoring devices are another way through which healthcare providers can keep track of patient vitals from a distance. Nowadays there are wearable devices that can transmit necessary data straight to a medical facility's database. Such data would include heart rate, blood-oxygen levels, weight, and much more.
How is a bespoke healthcare solution different?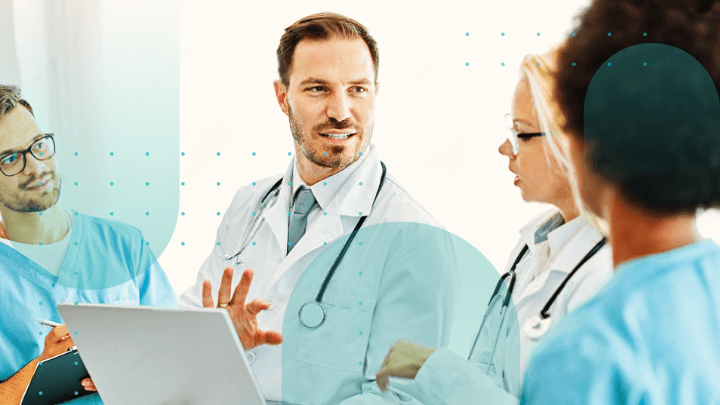 We have already talked about what software providers can offer to the healthcare industry. The main goal of a bespoke software development company is to give complete control and fulfill the business needs of its clients.
Such companies specialize in creating tailor-made software so it can provide a better alternative to healthcare practices and avoid off-the-shelf solutions that decrease efficiency rather than increase it.
Bespoke software developers communicate with their clients to better understand their exact business requirements.
This process guarantees that they can then build software that will allow administrative and medical staff to work efficiently. tailor-made means exactly that - having the developers include certain features that this specific medical facility may be in need of. Commercial software can also be used but it may be the determining factor in how the business grows.
The only other option when picking new software for your medical facility or practice is existing software. This choice oftentimes comes with drawbacks of its own. Having an application that does not incorporate a bespoke solution may lead to integration issues with the workflow of your employees.
When staff members have to look for workarounds that will fix their issues with the commercial solution that makes productivity plummet and may even lose more money in the long run compared to the high initial cost of a unique solution.
When it comes to software for the healthcare industry, even if it is custom-made, there are still a couple of factors to consider.
What are the things to consider when choosing healthcare software?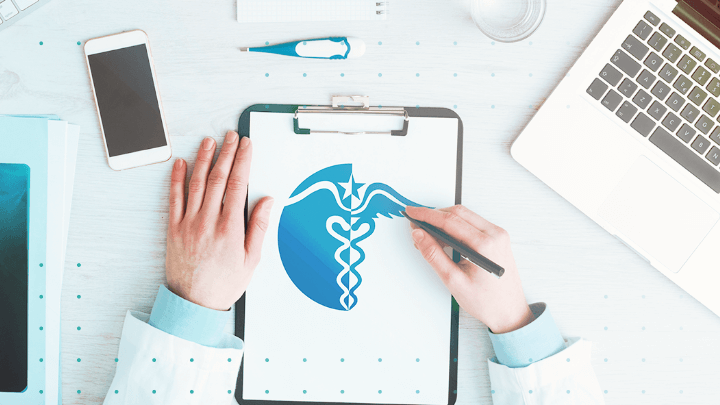 Utilizing software the right way in your healthcare organization is a must if you want a quicker development pace for your business. There are many different ways to use it and a wide variety of applications and programs to use.
There are, however, a couple of criteria that can make the entire process much easier. The most time-consuming task of bespoke solutions isn't the development process or deciding on what kind of programming language to use. It is communicating with the client and figuring out their needs.
User-friendliness
Healthcare applications can be made both for patients and practitioners. Both groups are people and one thing no one likes using is an application that is overcomplicated and hard to work with. Having a well-designed user interface is not just good for the eyes, it's also very good for keeping stress levels low.
These are usually applications that people will be using on a day-to-day basis, which means they will have to interact with the programs frequently. It is far better to have apps that are easy to use.
It should be expected that the individuals who are meant to work with the software do not have any prior technical or computer training. No developer worth their salt should expect their final product to be used by experienced technicians or programmers.
When it comes to patients, there are a lot of them that are senior citizens, which means they would be less likely to waste time figuring out unclear software. A well-thought-out user interface can save a lot of time on all sides and a lot of headaches.
Broad compatibility
As the times advance, so must we. With that in mind, having a software application that is based on working with other devices or systems be incompatible with recognized standards means that it will be useless.
Wearable devices, for example, have to be created in a way that corresponds with the given options of data transfer. They have to be compatible with Bluetooth at the very least.
When it comes to a healthcare organization, it is almost a basic necessity that it keeps up with new technology. Tailored software, of course, provides clients with a competitive advantage. When you get a custom product developed for your business, you usually also get maintenance. This maintenance can also be one that keeps the software up to date with the newest practices technology-wise.
HIPAA compliance
The acronym HIPAA stands for Health Insurance Portability and Accountability Act. It is a discretion and preservation code that all medical practices have to abide by. The act specifically concerns who has access to your medical information and at what time.
The staff members of a medical facility have to physically and administratively ensure the security of patient information. This applies to all the employees of the hospital that handles a certain patient.
As every computer application works with some kind of network or database, there is a question of security. And when it comes to the personal medical information of a patient, it is especially important. When you want to have your own software you have to be vigilant on that front.
The software development company you choose to create your application has to prioritize HIPAA compliance at every step of the process. If the people selecting the software company don't have the necessary expertise to discern this compliance it is worth the extra cost of hiring a consultant to ensure years of security ahead.
The advantages and disadvantages of bespoke software for healthcare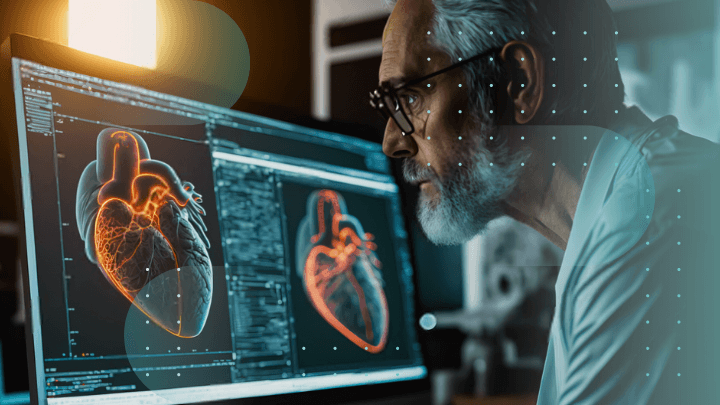 Like any big step in spending a lot of resources to acquire something new, what has to be considered before doing anything are the pros and cons of the thing you want to get. In this case, it is bespoke healthcare software.
Advantages
Customization
One of the biggest bespoke software advantages at the forefront of the idea is that the programs developed can be flexible and individualized per the client's wishes. Given that the software is created from the bottom up, every single feature and function can be made just as the client needs it.
There are many small businesses out there that have very niche practices. Ready-made software doesn't really do the job in those cases. Bespoke software is like a well-designed suit - it is tailor-made. Another argument that speaks to its customization is that development teams usually work directly with customers not only to understand their needs and requirements but to guide them in the right direction and give further ideas.
In most cases, administrators that decide to use bespoke solutions aren't experts in software development and they shouldn't have to be.
Reduce training time
With custom software, healthcare organizations are able to best adapt the applications and programs to their staff's needs and wants.
They can give direct instructions to the developers on how to set up all the icons, remove unnecessary features, or make everything easily accessible and understandable for their employees. This added customization is something that would reduce the time needed to train the staff members that will be using the program and in turn, reduce costs.
When healthcare software is developed for patients to use remotely from home, there is always the potential need to have a support line where there is someone to provide help.
Making everything easier to understand and use minimizes the need for such support. Having the whole application make more sense, in turn, helps the healthcare organization with cost reduction practices.
Security
As we mentioned before, data security is of the utmost priority when it comes to healthcare software. The main advantage of having a software developer make your program from scratch is that you can emphasize much more on the safety of the application.
The development team can put in as much work as you want on full-proofing the final product so that existing users can feel comfortable with using the healthcare facility's services.
Scalability
Another great argument for bespoke solutions is that, whereas off-the-shelf software can't be customized in the future, custom-made applications can be easily updated and scaled up if need be.
This makes custom-made software a very good choice because it ensures that the application will be able to not only satisfy all your business requirements now but also be easily changed to fit future ones that may arise.
Disadvantages
High initial cost
One of the biggest issues people have with bespoke solutions is that the upfront cost of development is quite high. And although it is very much likely that all the benefits will pay for themselves in the long run, it is still something to be considered.
Although the investment may prove more than positive for future business growth, this high initial cost is something that discourages people the most. Any healthcare organization has to be well informed on what exactly they are spending their resources on after all.
Time-consuming
While there are huge benefits that concern the customization of bespoke software, these individual requirements require a lot of time to detail. Communication with the software developers may include carrying out an analysis of similar products, and precise specifications on every functionality, feature, and requirement.
In order to get the high-quality product you are looking for, when it comes to custom-made software, a longer delivery time should be expected.
Conclusion
In this article, we have discussed how software designed to assist healthcare practitioners and administrative staff makes the workflow of an organization highly efficient. Getting an off-the-shelf software solution, however, is not always the right fit for a business. In this case, it is best to have a software custom-made.
The key principle of having the right software, of course, is finding the right partner to develop it. In this case, you need a software development company with years of experience in the healthcare industry.