Digitalization is driving forward the healthcare sector at an unprecedented speed. As a result, healthcare service providers, pharmaceutical products manufacturers and Contract Research Organizations must rapidly adopt new technology to not only ensure their compliance, but also stay competitive, improve the quality of their services and products and stay focused on patient safety. This need for fast-paced progress, will result in $64 billion  valuation of the healthcare IT outsourcing global market, by 2027! 
Navigating through the complex digitization process and developing complex technology solutions with internal resources only is almost impossible. Or at least not with the needed speed and quality. This trend makes healthcare service providers, pharmaceutical companies and global CROs look for help outside of their organizations.
With the ability to outsource IT services, organizations can remain up to date with existing technologies, decrease the time-to-market and operational costs and most importantly – lower the risk for the company. External IT solution providers are already experienced in implementing new technology more rapidly than an in-house team, allowing the organization to stay competitive with the latest market requirements. Moreover, companies specializing in developing IT solutions for this sector, know the right approach to design and build products, which will be adopted by the market and will deliver a lasting impact on society. 
So what is Healthcare IT Outsourcing, and why it is the right approach for accelerating digitization, innovation, and increasing market share?
What is Healthcare IT Outsourcing?
Healthcare IT outsourcing refers to the process of hiring an external technology partner to fulfil the organization's IT needs and accelerate the project delivery. 
This emerging business model has attracted huge interest in recent years by leading health enterprises. The dominating region in the healthcare IT outsourcing market is North America, which will continue to increase its market share in the future, because of its well-established healthcare industry and better reimbursement systems. 
The USA also holds the majority of the market in North America, due to the higher adoption of digital healthcare and growing investments made by the companies in the country.
Although healthcare IT outsourcing was evolving fast, the pandemic accelerated it even more. Fast forward to today, the outbreak of COVID-19 led to some spectacular estimations about IT outsourcing services in the healthcare market. The global healthcare IT outsourcing industry size is expected to reach 390.7 billion USD by 2024. But while these numbers might seem like an over-exaggeration for some, they are backed by some solid reasons. The truth is that healthcare organizations are being held to new standards as clinicians and patients are being provided with cutting-edge technologies that require new types of services. 
While it's easy to state the fact that the healthcare market is going through a technological change, the reality is that even basic IT activities such as service desk, data storage, network management, and data security are mystery functions for most hospital executives. But as you going to see in the following lines, there is no need for executives to specialize in providing IT services for their organizations.
Because of this discrepancy between skills and requirements, many organizations have determined that the majority of their IT activities should be outsourced to specialists with long-term experience in developing IT solutions for this sector.
Before diving into why your organization should trust an outsourcing IT company, let's back our statements with more statistics. 
The Facts About Healthcare IT Outsourcing
We don't want to overwhelm you with numbers, but it's good to know the stats to make an informed decision about your organization's future. That's why we gathered some key facts and data on why IT outsourcing will be important for the health care industry:
Outsourcing IT healthcare reduces costs by 30% to 60%.
More than 90% of the hospitals in the US have outsourced at least one IT service to optimize their processes (Jonathan Clarke, the Assistant Professor of Health Policy and Administration, Penn State University)
The most common IT outsourcing healthcare services include – healthcare coding and billing, medical transcriptions, insurance claim processing, virtual assistants, and customer support.
In the second quarter of 2020 outsourcing healthcare IT cloud services increased by 11% due to scalability and remote care enablement. (Deloitte Global Healthcare Outlook 2021)
The global market for healthcare IT outsourcing is estimated to reach $64 billion by 2027. (iHealthcareAnalyst)
The key benefits of IT Outsourcing in Healthcare include reducing and controlling operating costs, improving company focus, gaining access to world-class capabilities, freeing up internal resources for other purposes, and utilizing resources that are not available internally. (iHealthcareAnalyst)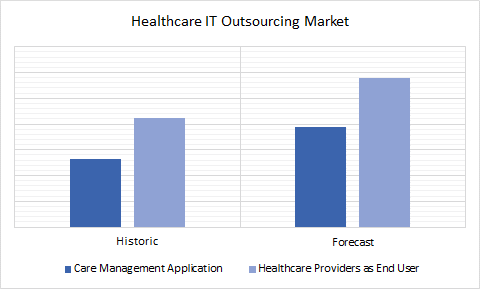 Source: ihealthcareanalyst.com
Why Should You Outsource the IT Activities of Your Healthcare or Pharmaceutical Enterprise?
Technology enablement, agility, scalability, innovation, and much more. Healthcare executives have all kinds of different reasons for outsourcing the IT activities of their organisations. But the bottom line is that they all want to stay competitive, do their best for the patients, and move their organisation forward.
Now here are the main benefits you will see once you start working with an IT outsourcing partner:
Lower operational costs
If you want to have a fully operational IT team, you must invest in equipment, human resources, and infrastructure. That's a huge cost that you need to add to your budgeting. With IT outsourcing, you can save big as IT companies have their infrastructure and IT specialist that are technically advanced and have the latest market insights. 
Cutting-edge resources
Coming from the last thing we said that outsourcing IT companies have the latest market insights. They have a proven track record of working with other healthcare organizations, they know what's best to meet your technological requirements. As a result, their toolboxes include the best, latest, and technologically advanced tools and resources in the market.
Decreased time to market
Building your eHealth solutions is a long and complex process that requires specific IT skills. Instead, you could outsource these operations to a team with expertise, resources, and already built multiple similar solutions for other clients. 
From patient CRM, CTMS, Electronic Data Capture Systems, GMP platforms, and mobile apps to their maintenance, quality assurance, and testing – you name it, and the outsourcing IT company can do it for you.
Full-proof security
Due to the high amount of sensitive data healthcare organizations collect, the healthcare industry is prone to cyber-attacks. Since HIPAA demands complete data security from such crimes, healthcare organizations are bound to find measures to avoid penalties. That's another reason the healthcare industry opts to outsource IT healthcare services. Most companies that provide IT outsourcing for the healthcare industry ensure compliance with HIPAA regulations so that their clients do not face legal issues.
How to Select the Right IT Outsourcing Company for Your Organization?
At the beginning of this technological transition in the healthcare industry, it was easier to find an IT outsourcing company because there weren't many. However, as the demand for IT services is constantly growing, the number of outsourcing companies got more considerable as well.
However, there are specific rules that, if you follow, your chances of selecting a world-class IT partner are higher. Here they are:
Feedback from existing customers
There isn't a better sign of what a company is about than its previous work and clients' feedback. That's why the first thing you have to do is to look into your candidates' portfolio, testimonials and business models. This paints a complete picture of how the company performs and whether its efforts yield exceptional results.
Check their services and performance
The next step is to determine what the service standards are. Besides that, you should check out the best outsourcing practices for healthcare IT. For example, a good outsourcer follows PMI project management standards and ITIL standards to ensure smooth development.
A previous healthcare experience is a must
You don't want to work with a company with zero hands-on experience in developing solutions for the healthcare and pharmaceutical industry. The best-case scenario is selecting a partner with years of experience and industry leaders trust it. That's because companies who had outsourced for healthcare facilities earlier know the drill. They have a better understanding of clinical workflows and revenue cycle management. Additionally, they understand how those workflows are interconnected with IT. On top of all that, they meet all HIPAA requirements, which is a must in the healthcare industry. Overall, an experienced healthcare IT outsourcing firm will provide you with risk and error-free development and save you from breaching protocols.
Remain forthcoming
While it's important what the IT company of your choice can offer, you have to make sure that your needs are well-defined for the partnership to work. You must be open about your challenges rather than focusing on what to say to avoid additional costs. The main goal is to identify challenges so that your partner can come out with the best strategy to overcome them. Failure to identify and define your needs will reduce the effectiveness of the whole planning and development undertaken by the outsourcing firm.
Cooperation and trustworthiness
Even if you did the complete research, problems might turn up on the surface once you start working with an outsourcing company. To come up on top of the issues, cooperation is required from both ends. Communication about current challenges and co-operation on resolving them together can contribute to overcoming those challenges and lead to the development of lasting relationships.
Look for a partner, not a vendor
And last but not least – make sure to work with a partner. The biggest mistake healthcare companies make is to choose several vendors with only specific skills in a tight area. That's why they are limited to basic services and cannot get the synergy of working with a technology partner, which can be a one-stop-shop. However, if you opt for a partner, then you can get a wide range of benefits – starting with the creation of the product's blueprint which will capture all your requirements and related solutions to ongoing maintenance and support. Hence, invest in a partner. Otherwise, you risk ending up with unsatisfactory results.
BGO Software: The Trusted IT Partner Of Industry Leaders
We are indeed an example of a strategic IT partner to health tech organizations around the world. Our mission is to play an essential role in building global health ecosystems and thus, improve patients' lives, create opportunities for preventive care and harness the potential of technology to enhance healthcare today.
What are the services that Healthtech companies require
The right advice based on experience can and will make all the difference. You can receive professional advice from senior IT professionals, that have spent 15+ years developing digital health project and have extensive understanding of the software development process and the industry. We have further improved the standard consultancy service to what we call Project CTO as a Service – a technical leader, that handles the technology-driven challenges of a project and manages the engineering team. This will give your project the required head start, eliminate potential operational risks, and fosters reusability across the company's strategic roadmap. BGO's industry-experienced technology leaders provide premium support in strategic decision-making processes and will guarantee the overall success of your projects. You can choose from four different packages depending on what level of engagement you want from our tech lead.
You can have your project done from start to finish externally and have all the risk handled and managed by you strategic IT partner. The approach that we employ at BGO is  human-centered Product Design and behavioral science, to develop health solutions that reduce costs and improve outcomes for end-users. We focus on deep understanding of the healthcare landscape, to ensures that our clients invest in digital health products that the market actually needs and is willing to pay for. Our approach to delivering projects is focused on the capacity to quick-start your project, limiting the risk in the early phase of the business relationship, and continue building trust between us. To learn more about the product journey, please see here.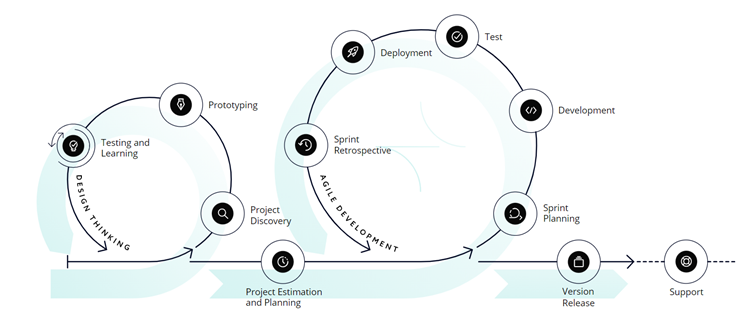 For those companies that already have an internal IT team and need to be able to quickly scale up or down their IT capacity, the right solution is Managed Services. Wide pool of technologies, complete flexibility of the talent involved in the project, as well as, premium code quality are the characteristics that Managed Services customers are looking for. The added value in this service comes from removing the administrative burden from customers and ensuring the timely availability of talent. 
To get an even better understanding of what we do and what we can offer your organization, take a look at our work. If after that you still have some questions and wonder whether we are the perfect fit for you, don't hesitate to contact us.