In the course of the most recent decade, the IT business in Bulgaria has expanded profoundly in terms of its capabilities. Considering this fast yet stable advancement for Outsourcing to Bulgaria, the country can be seen as one of the best outsourcing destinations in a worldwide perspective. In the past, agriculture, metallurgy, production of goods and chemicals were the center of Bulgaria's industry, these days they have been greatly replaced by industries, for example, IT and telecommunication services.
This movement, starting with one organized zone then moving onto the next, demonstrates the expanding significance of the IT business-sense here and also around the world. In connection with this, the general advancement of financial exercises in Bulgaria and the aptitudes of national IT experts have changed the nation into a destination of profound interest to a rising number of local and foreign organizations who are highly interested in the development opportunities it offers.
A Bulgarian outsourcing company paying attention to our clients' prerequisites and details, we need to facilitate their IT-related problems and help them surmount such difficulties that are related to the IT sector. With the quality services offered by us, we master:
Mobile applications
Windows applications,
HTML5
.NET
Custom software development
Desktop problems
ERPs
And various other software solutions which coordinate the most elevated rates of overall quality.
BULGARIA - MOST FAVORED SPOT FOR IT OUTSOURCING IN EUROPE
The upright and appealing nature of Outsourcing to Bulgaria as a relatively new outsourcing destination has been noted in the most recent study led by AT Kearney. The consulting company's study states that our country is the most favored spot for IT outsourcing in Europe.
"The most amazing thing however is the way that Bulgaria earned the ninth spot on the 2014 Global Services Location Index that includes 50 other nations as well, and as such is the sole European nation to command a spot among the top 10."
BULGARIA OFFERS THE 4 THINGS THAT ALL OUTSOURCING COMPANIES WANT ACCORDING TO AT KERNEY'S METRICS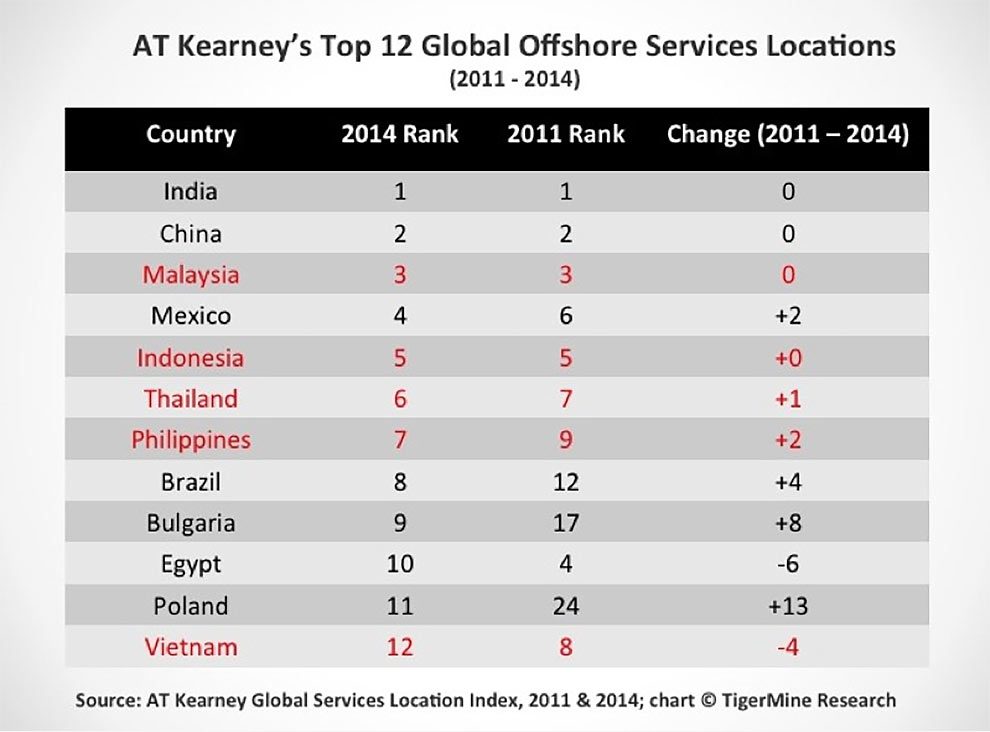 AT Kearney
(Credits of the photo go to AT Kearney and tigermine.com)
Interestingly, the foundation of the AT Kearney's results depends on 25 metrics across three classes – business environment, financial attractiveness and, lastly, individual's skill set and accessibility.
BUSINESS ENVIRONMENT
As per the Bulgarian Ministry of Economy, the country is developing as an appealing outsourcing destination which becomes more highly acknowledged in a larger scale. Additionally:
CLOSE TO YOU: Bulgaria is situated in a very tactical position in Europe. sharing borders with advanced nations empowers Bulgaria to cultivate the change of its economy and to offer national products and administrations all the more successfully,
TIMEZONE ISSUES: While avoiding time zone issues in a much more efficient manner.
REDUCED DEBT: Reportedly, Bulgaria possesses the second-most reduced debt in the EU which is apprised at 17.0% of GDP.
FINANCIAL ATTRACTIVENESS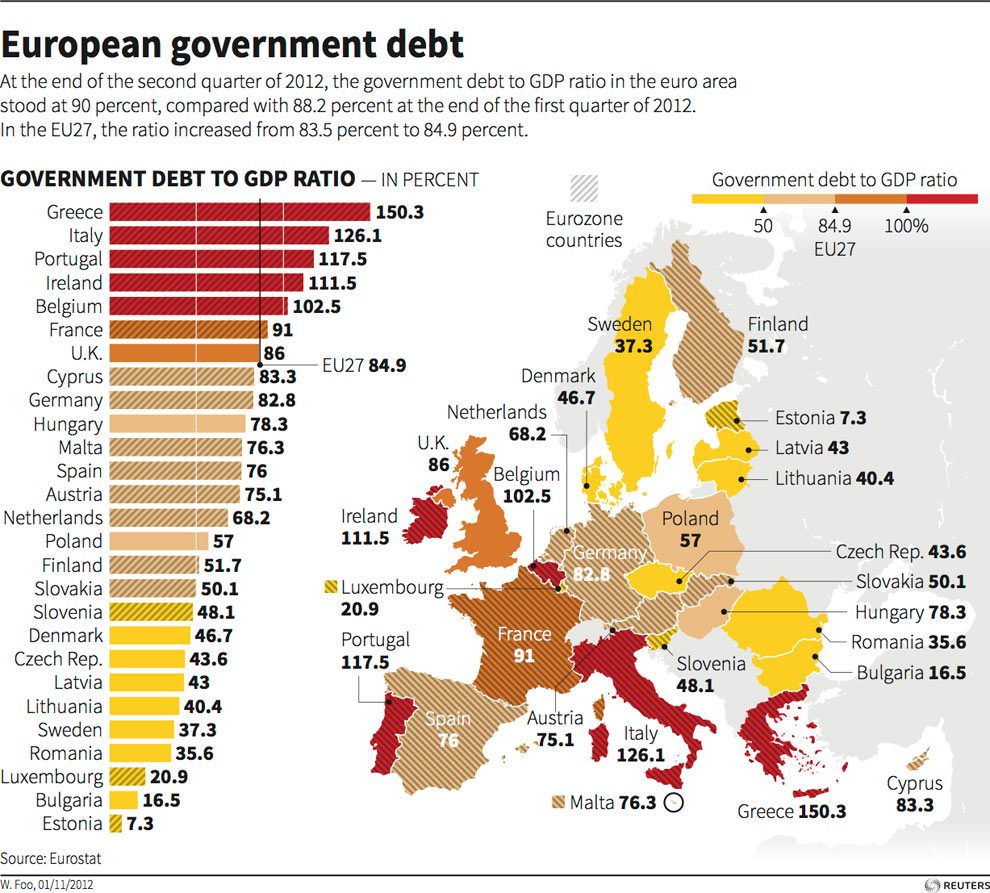 Europe euro debt
(Credits of the photo go to Eurostat)
In the easiest explanation possible, this is money-related engaging quality of Bulgaria which is measured by markers that show how productive the shipment of business activities and services are bound to be. The marker of our nation is sufficiently high to pull in financial specialists and different business pioneers. Finally, 2015 Doing Business report focuses on the fact that our nation has demonstrated remarkable enhancements as far as business establishment procedures were concerned. As a result, this places Bulgaria at the 38th spot among 183 different nations.
SKILL SET AND ACCESSIBILITY
For the past few years, IT experts in Bulgaria have received a global notoriety of proficiency, capability and aptitude to function at the most elevated levels of accuracy. Owing to the fact that very well-rounded and maintained education system software designers, engineers and different experts in the IT industry represents the strongest population in the outsourcing industry. With a wealth of IT-licensed multilingual and competent specialists, Bulgaria will certainly proceed with its steady advancement towards the worldwide outsourcing business.
THE EUROPEAN "IT HUB"
Our nation has set up itself in an assortment of IT business hubs, as well as small scale outsourcing ventures and additionally top of the line outsourcing activities. Why is that so? Undoubted points of interest of Bulgaria are the very much arranged frameworks. Along these lines,
The Bulgarian work pool is stamped for its selective multilingual grounds.
In this manner, 98% of secondary school students learn a foreign language, while about 73% study a minimum of two foreign languages.
In addition, the most effectively delineated regions are symbolized by various databases, custom programming, conventional CSC and SAP programming, CAM/CAD/CAE frameworks, telecommunication administrations and a host of others.
Despite the fact that 95% of the IT industry is based in the capital city, Sofia, the outsourcing industry has been spreading in urban areas like Burgas, Blagoevgrad, Plovdiv, Ruse, Varna and Veliko Tarnovo.
WHICH COUNTRIES OUTSOURCE TO BULGARIA?
Some of the nations that work as a team with Bulgarian outsourcing firms and companies include.
European Countries that do Outsourcing to Bulgaria as a standard practice:
France
Germany
Poland
Russia
Spain
UK
USA
And so on.
Lastly, the IT business in Bulgaria offers reason for further growth and development. As appropriate as it seems to be, the nation is linked with the likelihood of numerous advantages and opportunities which plot it as a selected outsourcing destination now and in the nearest future also.
EVEN THE BRITISH GOVERNMENT OUTSOURCES TO BULGARIA
It is not a fortuitous event then that the UK Ministry of Health places the fate of its HARP project in no other than the BGO Software Company. This is a confirmation for the engaging quality of Bulgaria as an IT destination for outsourced tasks. The purposes behind this are numerous and they fluctuate accordingly. Attempting to add to the meaning of the country as the most appealing offshoring spot, our organization offers a top-notch level of services appropriated by the best skilled specialists.
Being a champion, Bulgaria is likewise positioned third in the current Cushman & Wakefield's Business Process Outsourcing and Shared Service Location Index report.
Having said this much, in the event that you anticipate Outsourcing to Bulgaria or running your own IT business in Bulgaria, possibilities of you making it are limitless!