We are excited to share that apart from winning the first place in the "Trade and Investment Development between Bulgaria and the UK" category, BGO Software has also been honored with the second place in the "Corporate Social Responsibility" category at the BBBA Annual Awards 2017 (British Bulgarian Business Association). The power of doing good for others exceeds that of any other grand mission that a company can have.
Investing in people, be that employees, partners, underprivileged children and adults, strangers on the street or family members, has an impact so huge that can shake up any doubt that there isn't anything bigger than the self. And that impact goes above and beyond. It grows every day. The more you do, the more you receive back. It's not a "return on investment." It's a "return on doing good." The value a company creates for others comes back twice as big in the form of gratitude and appreciation, proving that every effort was worth it.
THE MOMENT WHEN FACTS ARE THE CLICHÉS THAT NEVER WEAR OFF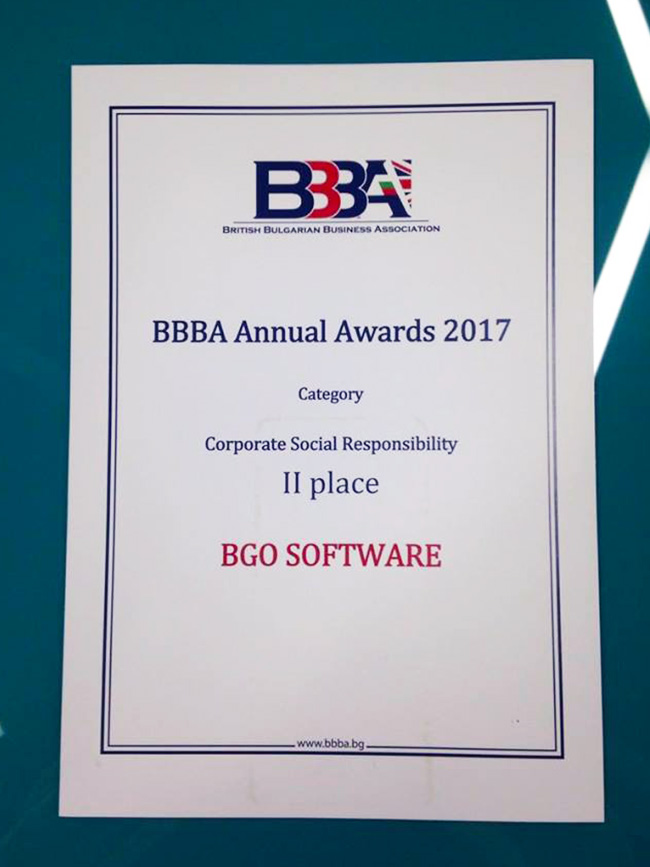 BBBA organized the contest with the idea to acknowledge and celebrate what their members have achieved over the years. As pointed out by BBBA themselves, the awards are driven by the genuine belief "in the power of sharing good practices."
---
Want to make a difference? Thoughts on what socially conscious business really is.
---
During the BBBA Annual Awards, we wanted to demonstrate that as an IT company that works with people and our society in mind, BGO Software has the goal to bring a change and transform the world we live in for the better. It's not something that happens in an instant. It is a process that takes time, motivation, determination and persistence. We have a purpose and we constantly work towards achieving it. Since change begins from within, we have established a corporate culture which understands the socially responsible business as a priority.
BBBA ANNUAL AWARDS: THERE IS NO PERFECT TIME TO START DOING GOOD BUT WE DECIDED TO START NOW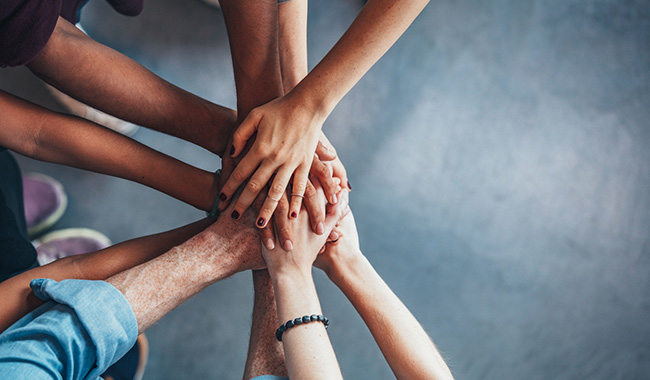 What we included in the application form for the BBBA Annual Awards was an executive summary of all of our relevant achievements for the past 18 months. We showcased that for the past couple of years, we have been trying to create much better future of undervalued children and adults in our country by establishing NGO "With Love for Bulgaria." So far, the foundation has helped 2000+ people, involved 500+ volunteers and accomplished more than 50 community projects.
---
See what really inspires our CTO Ivailo Ivanov and CEO Ivan Lekushev
---
Our mission to advance the educational landscape emphasizes on the importance of individuals to grow and develop their skills. For this purpose, we created two IT academies which offer quality programming courses for free. Until now, our Web Academies have trained 2382 students in PHP, QA, Front-End, Linux System Administration in three major levels – beginners, advanced and professionals.
We didn't neglect sports either for they teach our society how to bear both success and failure, and how to stay motivated no matter what the results are. After all, nothing is more inspiring than trying again. Currently, we have established BGO Software Basketball League, support 50+ basketball teams across the country, sponsor the National Basketball Tournament Finals for Amateurs, and support support young football talents.
THE FUTURE IS NOTHING ELSE BUT AN OPPORTUNITY-GIVER AND IDEA-BUYER
The only thing that we strive to do is to seize every chance and continue our investments in education, charity, sports and our society. All of our initiatives will continue to create stories of success, while motivating others to follow our example.