BGO Software has been named a leader in the Top B2B Companies in Eastern Europe Report by Clutch. The leading B2B ratings and reviews platform releases its annual list of the highest-performing B2B companies in Europe once a year. The companies included are factored on their level of industry expertise and ability to deliver scores into their rankings. The report takes into account also reviews collected from former clients of the company, the variety of services offered, and market presence.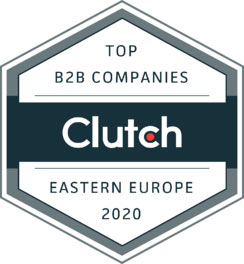 With its comprehensive portfolio of services and a large list of successful projects and happy customers, BGO Software stays on a leading position of a trusted technology partner in Europe. Starting with custom software development services back in 2008, we have successfully managed to grow to a leading provider of digital health solutions and sophisticated IT products. BGO Software is one of the very few companies in Eastern Europe which manages to overcome the perception of an outsourcing destination for the region. We work hard and develop our own products, which are used by hundreds of pharma and clinical research organizations globally. Our portfolio includes not only bespoke software solutions but also IT consultancy, digital health products engineering, platform-driven solutions, and cloud services.
A Focus on Digital Health Solutions and Implementation
Thanks to our expertise in technology, successful project delivery, and in-depth understanding of the pharma and clinical research market, BGO Software naturally became a leader in developing advanced Digital Health Solutions and a preferred vendor for a number of pharma companies. We have delivered turnkey digital transformation solutions for the industry for more than 5 years. By using cutting-edge technologies and following the best practices, we have been able to provide a variety of IT solutions to some of the leading pharmaceutical companies worldwide including validated systems running in regulated environments.
Part of our solutions is Intelligent Manufacturing Systems, Business Intelligence Systems, Patient Support Software, Electronic Data Capture, Dashboarding and BI Solutions, CTMS, and Validated Systems development. What distinguishes us from other custom software development companies is that we deliver the whole cycle of services needed to empower your company. From initial consultancy and business analysis, digital health strategy, and transformation services, to software development, DevOps, SysOps, and cloud infrastructure, we have it all. This turns BGO Software into a one-stop-shop for all your technology needs, and projects.
Platform-Driven Solutions to Decrease the Time-to-Market
In addition, BGO Software offers also platform-driven solutions. Thanks to our long-lasting experience in working with leading pharma and clinical research enterprises, we have gathered exceptional know-how and bundled it into ready-made building blocks and comprehensive platforms. By using them we are able to deliver cutting-edge technology in the short-term. Our approach of component-based software engineering allows us to decrease the time-to-market, costs, and complexity of your new project.
What Makes BGO Software Leading B2B Company in Europe?
During the years we have developed unique methodologies and internal processes to deliver successful technology solutions. As part of our team, we have skillful and certified engineers and developers. Our company's processes ensure ongoing alignment with existing ISO standards (ISO 9001 and ISO 27001). Our team of developers, specializing in intelligent manufacturing software solutions can help you identify your exact demands and deliver a state-of-the-art solution within budget and deadline.
Check why companies trust us in the large list of verified reviews from our past and existing customers on Clutch. Leave us a review if you have worked with us!