In the last two decades, we've observed some notable events in the healthcare industry: from the massive adoption of personalized therapies to the Covid-19 pandemic. Despite being regarded by many as conservative and stagnant, the healthcare sector did cooperate with technology to create 21st-century innovations: breakthrough drug discoveries utilizing artificial intelligence (AI), smart hospitals, etc.
Thanks to growing health awareness, improved IT infrastructure, and Internet coverage, the USA digital health market size is expected to reach $549.1 billion by 2030. In this article, we'll discuss the two main areas of innovation and changes: improving patient care to achieve better outcomes and automation/reduction of administrative tasks to reach business objectives and goals. Are you excited about the future of healthcare?
If yes, continue reading and get to know some specifics regarding these innovations.

1. Telehealth (a.k.a telemedicine)
As we discuss trends in healthcare, we should start with the ones that came to the limelight during the pandemic. Telehealth has become a common practice that allows patients to access healthcare remotely. There is no complex healthcare technology behind it, it's just an Internet connection, and electronic devices are all medical professionals need.
While telehealth refers to all the services and processes of a medical provider, telemedicine specifically targets clinical activities. Telemedicine ensures the doctor-patient connection by providing different communication channels (video conferences, phone calls, etc.) To guide you, we will present to you the medical services incorporating telehealth and the benefits it offers to the world.
Practices and technologies in telemedicine
Generally, telemedicine aims to treat patients that are out of reach, immobile, bedridden, or suffering from chronic diseases. This relatively new practice can compensate medical staff with several digital health solutions it offers.
Real-time communication allows patients to contact healthcare professionals via video conferences, chats, etc. Tools like Messenger and Whatsapp are rarely used because medical institutions operate with sensitive data. Unsurprisingly, many healthcare providers aim to use telemedicine solutions (apps and online platforms) to guarantee security and compliance with existing data privacy policies. As a result, patients and doctors can access and share information securely.
Store and forward implies collecting patient data (test results, medical images, appointments) and sending it to a specialist. This health information is usually stored in an EHR system. Such practice helps doctors access and analyze the data afterward and incorporate it into analytics.
The global mHealth apps market size reached $43.5 billion in 2022. Mobile health applications may connect electronic clinical devices with software and act as a standalone tool. For example, Healthsuite is a patient app that provides effective digital therapies for inflammatory conditions for Ampersand Health.
It incorporates expert-led courses, self-management tracking, personalized insights, and clinical messaging. Furthermore, healthcare providers can utilize applications to speed up communication, share data faster, and conduct clinical procedures remotely.
Healthcare organizations can also rely on in-office telemedicine software integrated with EHRs to manage special programs like chronic care management, principal care management, and transitional care management. This solution may enable appointment scheduling and collect real-time health data from the Internet of Things (IoT) devices to facilitate diagnostics, saving doctors' time and effort.
Telemedicine use cases and benefits
Here is a brief overlook that describes some essential use cases of telemedicine:
Sharing X-rays, MRIs, or photos of symptoms securely
Monitoring patients with chronic diseases via wearables
Provide video consultations and prescriptions via mobile apps
Instructing on wound treatment and medications
As you can see, telemedicine solutions can be useful in several areas of clinical and non-clinical work:
Improved patient outcomes. Telemedicine decreases general health and contagion risks by promoting constant and cost-efficient monitoring from home.
Saving time and money. Both patients and doctors reduce travel expenses and eliminate manual scheduling to spend more time on critical tasks.
Better use of resources. Medical institutions can benefit from the space medical facilities offer and concentrate resources on critical cases.
2. Remote patient monitoring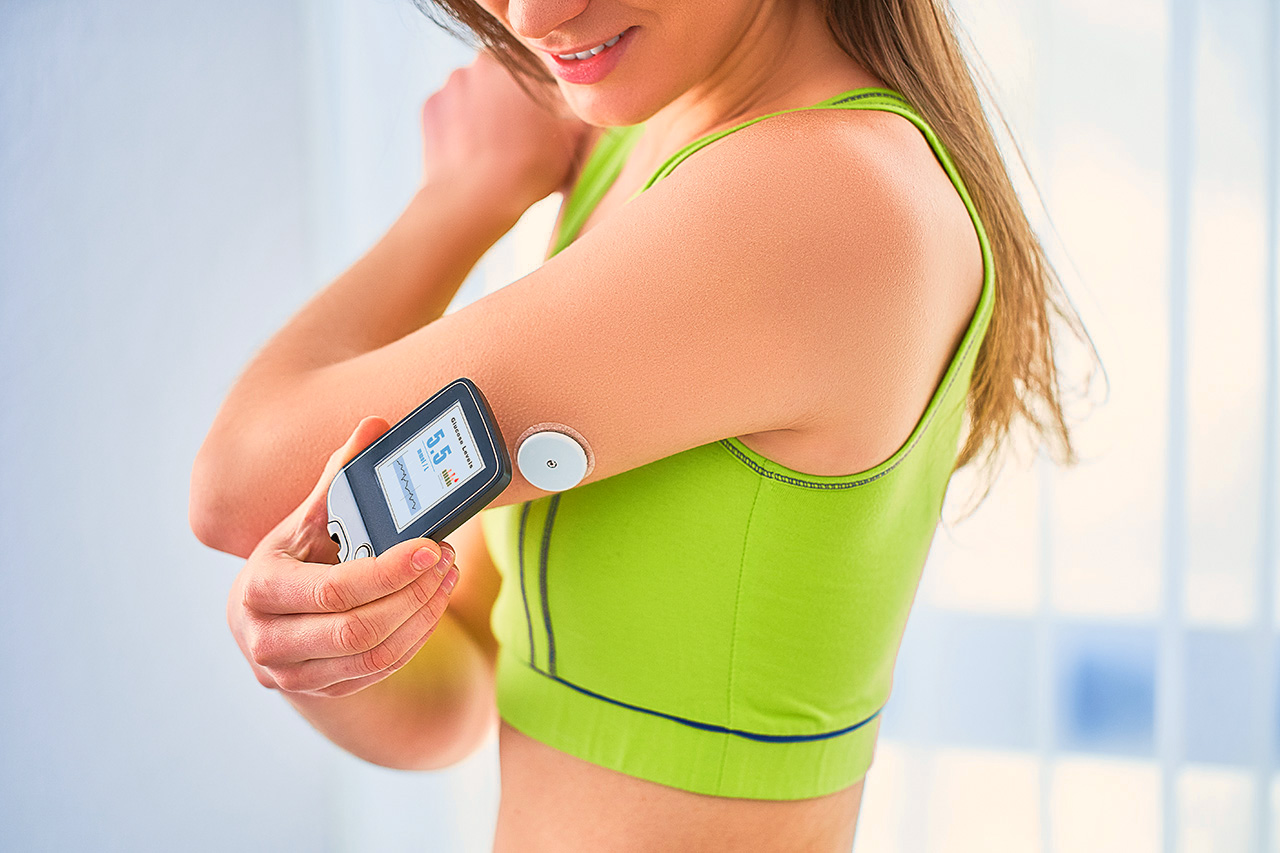 We cannot discuss telehealth and not mention its most prominent trend right now. Remote patient monitoring (RPM), powered by IoT, allows medical practices to monitor health data at a distance. RPM system relies on wearables that capture real-time patient data (e.g., heart rate, blood glucose level, arterial pressure, etc.) and send it to healthcare providers. This healthcare technology can track medication adherence, identify potential risks, and manage prescriptions.
Use cases and benefits of RPM systems
RPM software processes telemetry data gathered by medical devices to facilitate diagnostics and provide better treatment to patients.
Through utilizing artificial intelligence and predictive analytics, healthcare professionals can analyze data from wearables and sensor devices such as:
temperature and pulse trackers
blood pressure and oxygen meters
glucose sensors
sleep monitors
The healthcare industry has seen many innovations in remote patient monitoring in the last few years. Phillips introduced their ultrasound imaging innovation Lumify which allows the automatic transfer of ultrasonic sound information. The device is connected to a smartphone, thus broadcasting data directly to the medical professional.
Likewise, electronic stethoscopes can be connected to a laptop that transfers heart or lung sounds via a dedicated portal. This way, healthcare providers can analyze patients' medical conditions, symptoms, and test results.
Mobile apps are the link between medical devices, measuring specific vital signs, and the healthcare provider's system. Applications found use in patients with chronic and critical illnesses, as they collect patient health information and treatment prescriptions. Different system modules can receive alerts from the device and present visualizations.
This way, medical institutions can make well-informed decisions, improve patient outcomes, and boost efficiency. RPM systems may also be connected with electronic health records, which allow the automatic updating of patient histories. Hence, doctors access relevant information and manage prescriptions in a few clicks.
3. Artificial intelligence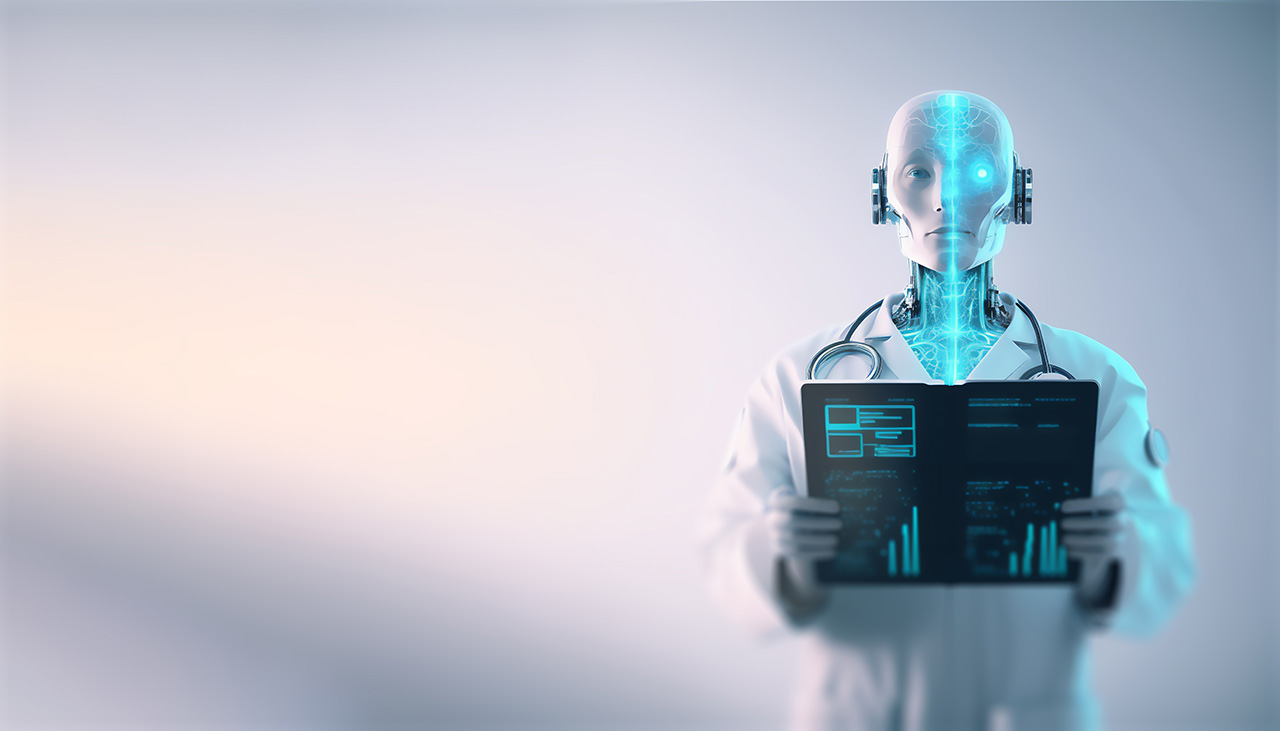 In recent years, it has become clear to computer science researchers that artificial intelligence (AI) has huge potential when applied in specific industries. Artificial intelligence offers admirable results in medical diagnostics accuracy, which might lead to better patient outcomes.
Not to mention that the US AI in medical diagnostics market is expected to reach a value of $2 billion by 2028. AI-driven software and healthcare technology combined enhance clinicians' decision-making when creating reports, scheduling appointments, and managing resources. Below we will discuss both the clinical and non-clinical benefits of AI in healthcare.

How AI prevails over clinical practice and automates administrative tasks
Healthcare providers can utilize the power of computer vision in radiology studies to identify tumors and disease progression. Artificial intelligence may also review images and scans, which enables medical professionals to prioritize critical cases and establish more precise diagnoses. It can analyze large datasets fast and compare them to other studies to identify patterns, which helps healthcare professionals to track crucial information quickly.
For instance, the collaboration between IBM and Hardin Memorial Health gave birth to Patient Synopsis. This product digs into patients' past diagnostics, medical procedures, and lab tests and summarizes the results to help professionals make well-informed decisions.
Enhancing precision medicine
Medical records and other health information are difficult-to-interpret unstructured patient data. Thankfully, AI can seek and standardize patient data regardless of the format, which supports medical professionals by enhancing workflows and medical decisions.
When integrated into IoT devices, AI serves as a predictive analytics tool that collects and assesses data generated by human bodies. Thus, professionals can track chronic diseases and treat them before they become life-threatening. The combination of AI and personalized healthcare is the future of medicine, as this symbiosis creates finely-focused treatment.
Prevailing over pharmaceutical research
Artificial intelligence can analyze databases of molecular structures and define those that might be useful in drug discovery. The deep neural network AtomNet showed promising results in this endeavor, as it processed millions of experimental measurements and protein structures.
Assisting in administrative tasks
It comes as no surprise that deep neural networks can assist non-clinical staff in their routine work as well:
Intelligent administrative workflow assistance. AI can eliminate repetitive tasks for medical staff and apply easy scheduling, report generation, document management, etc.
Medical fraud and data security solutions. Artificial intelligence can detect suspicious behavior and prevent patient data breaches.
Simplified data management. By automating report generation, as well as data visualization and management, AI helps medical staff to focus on customers.
4. Cybersecurity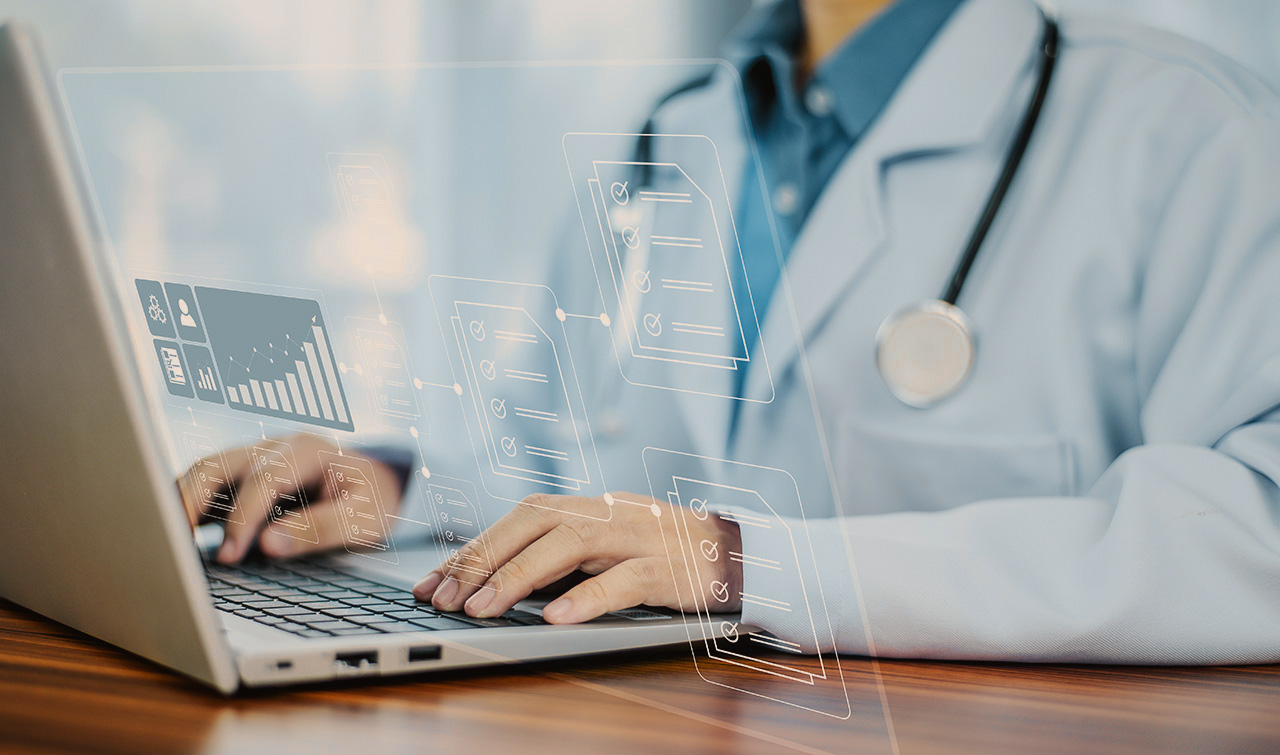 Healthcare technology is a critical factor when it comes to the optimization of processes. However, as medical organizations work with sensitive data (electronic health records), they must provide cybersecurity in the first place, as preserving health data is of highest concern.
Unsurprisingly, the weakest spots of healthcare systems include outdated software, cloud threats, third-party data access, and user errors. Different countries have set industry standards that every healthcare provider should comply with to ensure proper data processing.
Acts and regulations that you should not ignore
Like it or not, you might end up in jail if you do not comply with industry regulations. The list below outlines the most prominent acts every healthcare provider should take into account:
Health Insurance Portability and Accountability Act (HIPAA) builds the groundwork for health data protection in the USA. This regulation introduces the patients' rights to understand and control the processing of their health information. The goal of the HIPAA is to ensure that patient data is protected and utilized to provide and promote a high quality of health.
Health Information for Economic and Clinical Health Act (HITECH) strengthens the HIPAA privacy rules. This act encourages the implementation of electronic health to exceed the standard quality of care.
General Data Protection Regulation (GDPR) protects the sensitive information of European citizens and enumerates policies for collecting, processing, and securing personal data. As a healthcare provider in the EU, you should acknowledge all the principles and individual rights in GDPR.
Characteristics and features of secure healthcare technology
Let's start here: every healthcare software should be available and accessible by any authorized personnel in case of a cyberattack. When healthcare systems are fault tolerant and resilient, they can withstand malicious attacks and continue operating even if some components fail.
Data encryption is a crucial security principle for every healthcare software to prevent unauthorized access to sensitive information and avoid fraud and theft. This measure is based on a specific secret key that only authorized people have access to.
Through user and device access control as well as anti-virus/anti-spyware software, medical organizations manage to prevent malware and health data breaches. It's vital to grant users the minimum access to system capabilities as long as they can perform their job adequately.
Another key thing to implement is coherent password policies, as they reduce the risk of patient data being compromised. Healthcare providers should encourage patients to employ stronger passwords when entering their accounts in a healthcare system.
Furthermore, by adding multi-factor authentication (MFA), the system requires the user to enter a PIN or password to enter their account. Regular backups may also significantly reduce the number of data breaches, thus making the system less vulnerable.
Healthcare institutions perform security audits to protect sensitive data, identify loopholes, and create new security policies and strategies. Likewise, ongoing monitoring assesses potential data security threats and ensures safe user practices.
5. Online services portals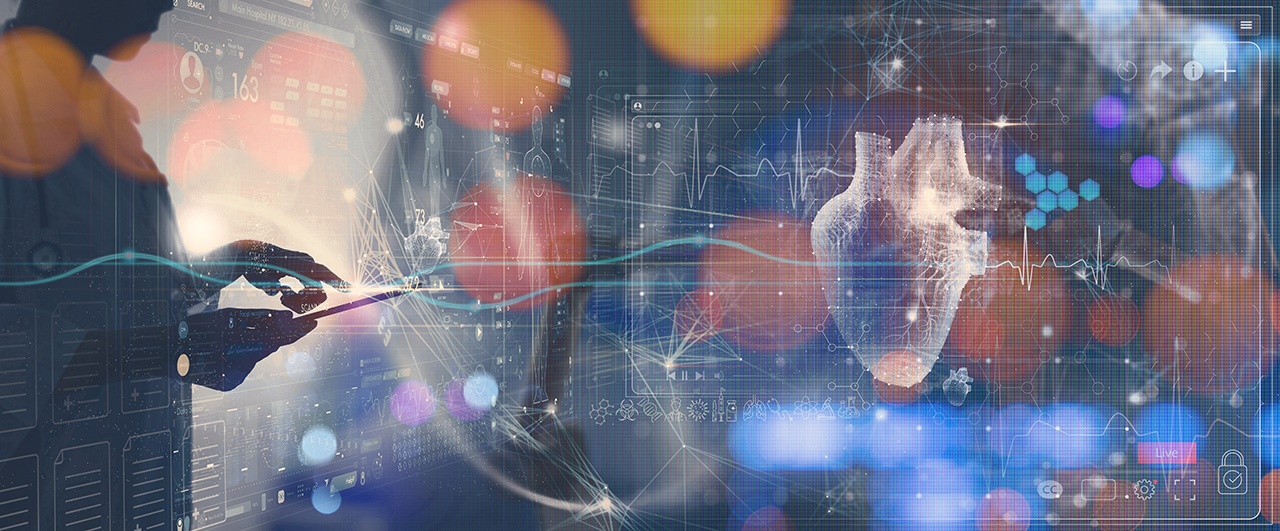 A patient portal is an online platform that allows people to access their health data and medical services. Thus, they become active participants in their healthcare experience, which improves patient outcomes.
Thanks to the popularity of this solution, the global patient portal market is expected to reach $8.8 billion by 2027. There are two types of patient portals: standalone and integrated (into medical practice management or EHR system) solutions, which offer many functionalities.
Features and benefits of secure patient portals
Secure sign-up and login are a must for healthcare providers, as they operate with sensitive data. Compliance with regulations, MFA, and a friendly user experience are the desired features of every well-built patient portal.
Patients should easily navigate through the dashboard and read reports. Accounts should provide access to health data (test results, examinations, vaccinations, etc.), features such as prescription refills and online appointments, and settings.
Patients may also access electronic prescriptions in any connected pharmacy within minutes. Additional features, such as reminders to take pills, boosts medication adherence. Furthermore, appointment scheduling may cut out a large chunk of administrative work for medical staff.
Chat and video meetings create frictionless communication between patients and healthcare providers and reduce response time and the number of hospital visits. Online billing allows patients to manage their expenses and facilitates claim management, thus saving insurers and healthcare providers money.
6. Outsourced medical billing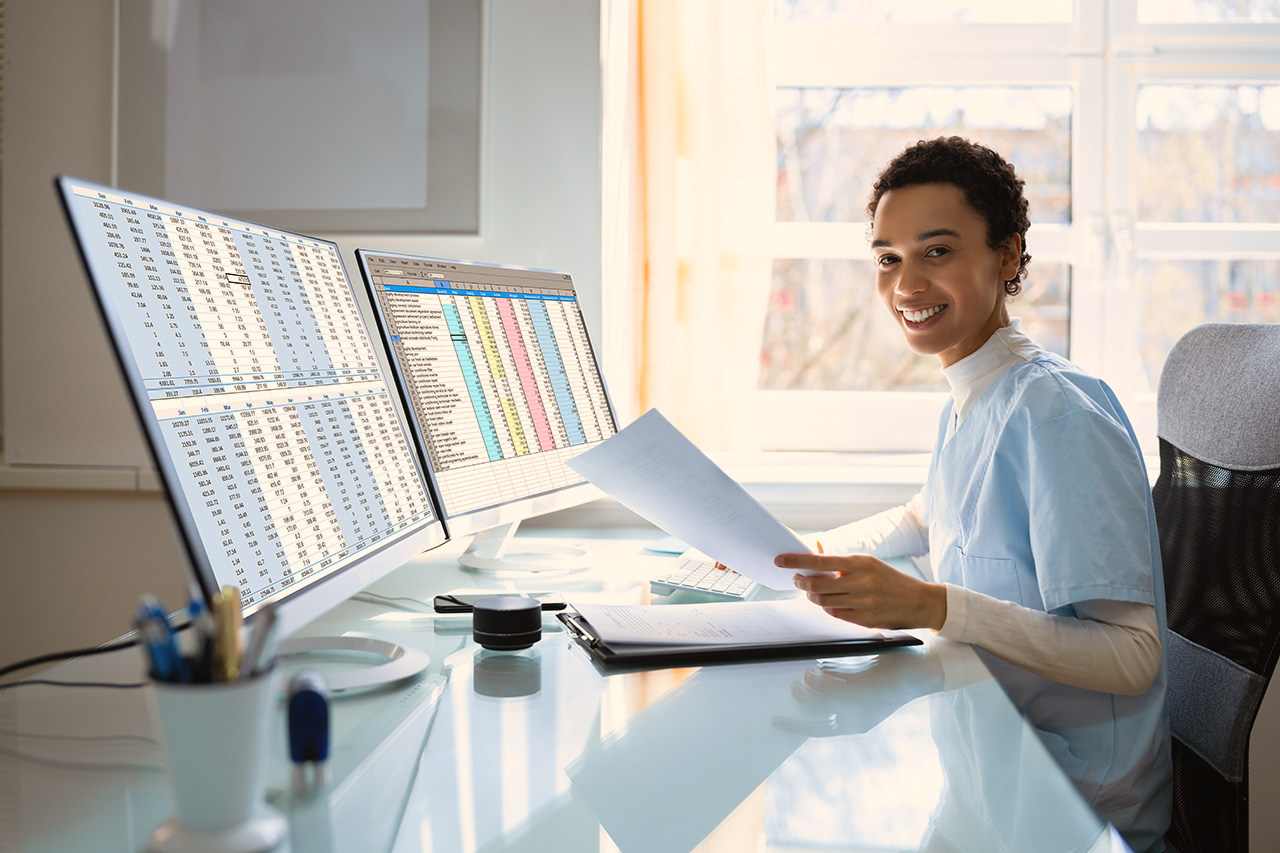 Medical billing solutions can be of 3 types:
in-office solution (medical billing software)
an existing module within a comprehensive revenue cycle management system
outsourced to a third party
Outsourced medical billing is when a healthcare provider allows a HIPAA/GDPR-compliant third-party partner to handle everything needed to generate and submit a claim to the insurance company. The whole process may include:
charge/coding review
claim submission and fixing claim rejection
payment posting
processing appeals
accounts receivable management
patient payments and statement management
The global outsourced medical billing market size is projected to reach $19.7 billion globally by 2026. The forces driving the growth are the rising adoption of EMRs and rapidly changing government regulations.
Furthermore, the ongoing staffing shortages and cost-cutting measures brought on by COVID-19 have made outsourcing medical billing an attractive option. As a result, healthcare organizations trust third parties to obtain reimbursement for medical services quickly and effectively, optimize revenue, and streamline workflows and operations.
Behind the scenes
You already know that medical billing is not an easy task to perform. However, one question remains:
What is happening behind the scenes? What is the infrastructure, and what operations are taking place?
As third parties manage financial processes for many clients, they might use comprehensive cloud-based billing software. By being accessible on virtually any device with Internet capabilities, cloud billing systems allow medical staff to perform billing tasks via electronic devices. Thus, billing information is directly visible to the third party, who takes care of the remaining operations.
Main perks of outsourcing medical billing
The whole process of outsourcing medical billing might take some time to settle the infrastructure and operations, but the benefits are evident:
Reduction of manual labor. Through outsourcing billing processes, healthcare providers ensure medical staff can focus on primary duties. Thus, medical workers have more time to dedicate to better patient interactions, which enhances the overall experience.
Reduced billing errors. Experienced medical billing partner handles claim management and reduces mistakes, while denials and appeals are worked on daily.
Increased revenue. One of the key benefits of outsourced medical billing is the optimization of claim submissions and collection of reimbursements in the shortest period. Thus, healthcare providers improve cash flow and achieve less revenue leakage.
Healthcare providers should invest large amounts of money and resources to provide innovative, high-quality care and reach cost-effectiveness. That's why innovation is not enough; execution is more important.
Only when you have a solid technological basis can you focus on providing better care and reaching business goals with minimum input. That's why medical institutions need a trusted partner with 10+ years of experience in the healthcare sector that can provide an efficient software solution meeting industry standards.