Success is measured by effort, social impact, the size of one's dream, the value which is being created and spread out and the appreciation that is given in return. And for the last 12 months, Web Academy has proven to be a real life-changer which incorporates big dreams and brave decisions, makes a difference, delivers value and results from our determination and collaborative work. Established one year ago on the 14th of October, 2015, we are now celebrating not only Web Academy's one-year anniversary, but one year full of achievements and success stories.
The Big Bang Theory of Web Academy, achievements and how did everything start
As a country renowned for its attractive IT environment and skillful software professionals, Bulgaria holds enormous potential to be reconstructed as the Silicon Valley of Eastern Europe. And because we know that no one can make big changes without making even a single step forward, we decided to start off by building our first free Web Academy in Plovdiv. More than a year ago, all of this was just a roughly sketched concept. Yet, shortly after that, with the help of our NGO "With Love for Bulgaria" it turned out to be one of BGO Software's greatest achievements.
Web Academy Plovdiv
In the beginning, our project was born with the ideal goal to provide future IT experts an opportunity to choose quality, career-oriented and comprehensive programming education for free, without leaving their hometowns. Thanks to our on-site and online classes, trainees get the convenience to select a free programming course that best fits their experience, interest and daily routines. So in less than 6 months, more than 300 future software engineers received their programming qualification. And this is not all as less than a year after launching Web Academy Plovdiv, 16 of the best trainees joined BGO Software's family of developers. The transformation from trainees to employees was followed by the addition of a brand new course. The training agenda which originally consisted of PHP, .NET and Front-End courses divided into several sub-levels, now includes Linux System Administration as well.
Web Academy Stara Zagora
Nevertheless, realizing that after the small step a bigger one should come next, we decided to expand our project and initial motives. As a result, we built yet another Web Academy in another Bulgarian town – Stara Zagora. Having upgraded visions in mind, the aim was to enhance the programming know-how of our trainees, while maximizing their chances for a successful career realization and reviving Stara Zagora as a modern, innovative and advanced IT center in the country. The training program of Web Academy Stara Zagora was further enriched with a free English course, suitable for anyone who wants to gain or improve their English skills. Collaborating once again with our NGO "With Love for Bulgaria", we also started working on a new initiative. It revolves around the idea of giving children with autism an equal chance of obtaining and advancing in-demand programming skills that will help them find IT-related jobs in Bulgaria.
All of the in-depth courses are carried out in Bulgarian. They integrate the latest technologies, IT trends, techniques and tools, like Kendo UI, for instance. By applying a successful combination between theory, real-life examples and practical exercises, Web Academy's expert lecturers are able to transform the academy into an institute of achievements and opportunities that empowers, builds and supports Bulgarian tech communities in the most effective way.
It is through our joint efforts and commitment that we initiate positive change. But it is our trainees, their devotion, passion and results that inspire us to continue to do so. Until we collect and celebrate as many anniversaries as possible.
Our infographic speaks for itself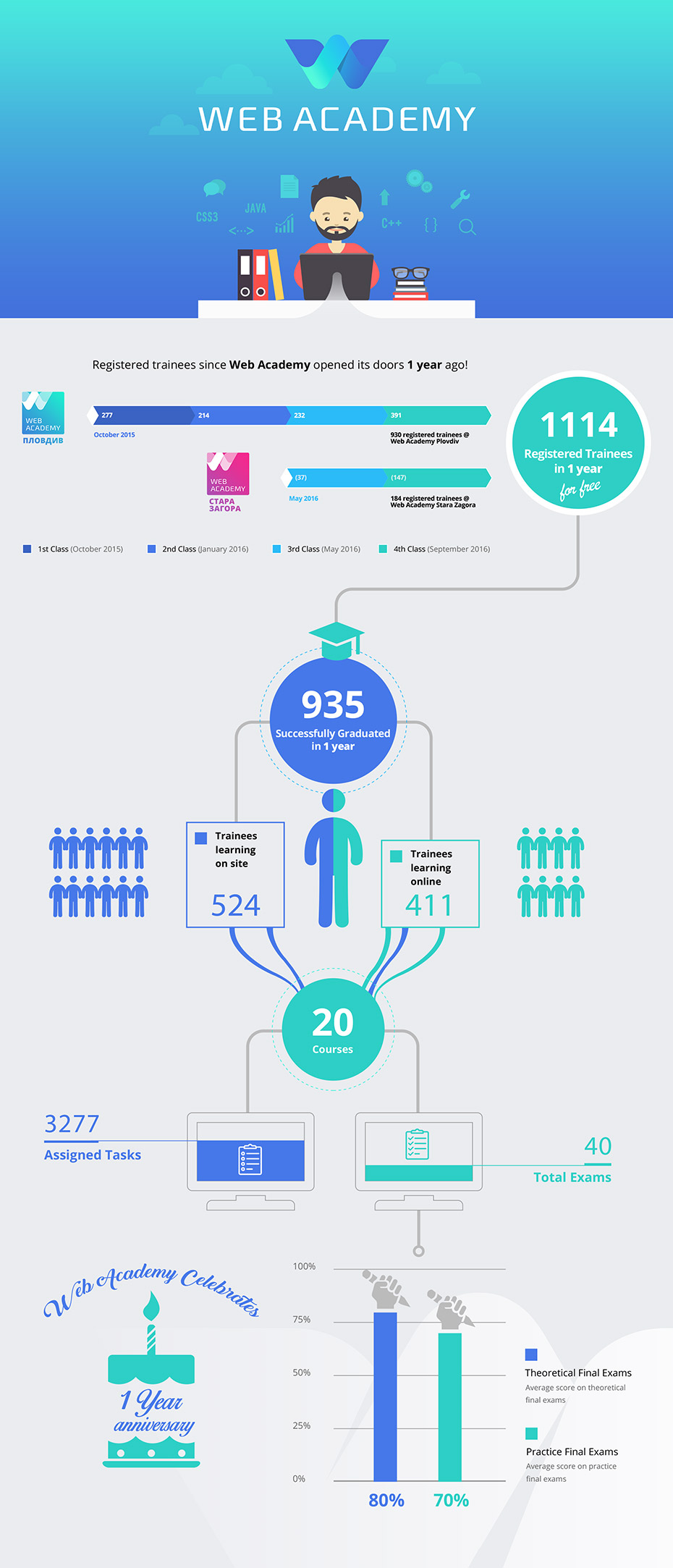 Share this Image On Your Site